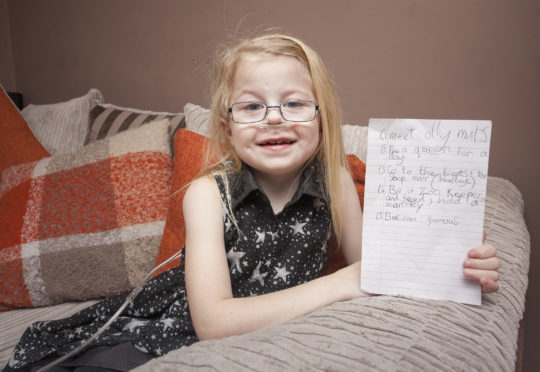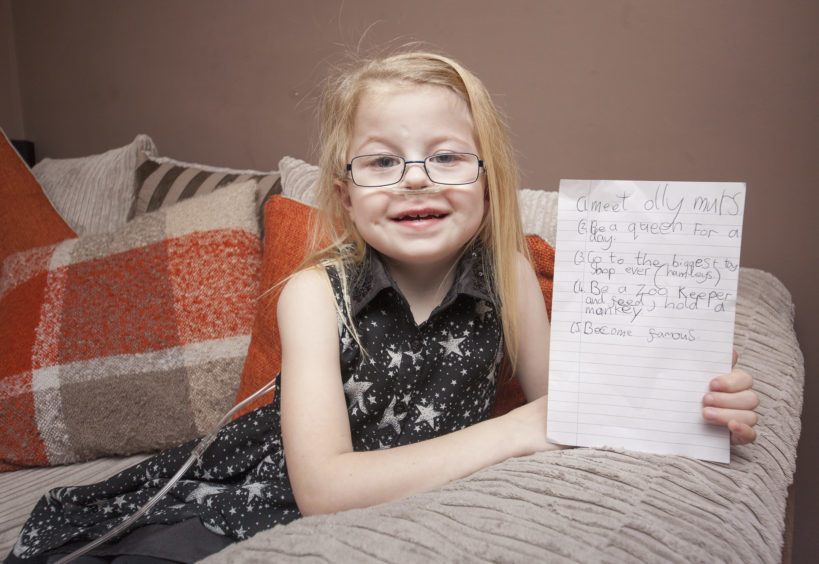 An Angus youngster who urgently needs a double lung transplant will spend Christmas in the critical care unit in Edinburgh.
Ruby Walker, 9, from Arbroath, was diagnosed with cystic fibrosis at two weeks old and was well until she caught a virus aged seven months.
The virus led to a secondary infection causing damage to Ruby's lungs and leaving her reliant on oxygen ever since.
The youngster, who is a pupil at Hayshead Primary School in Arbroath, was added to the transplant list in October 2016 after her lung function dropped to 35%.
Ruby's family hoped she would have a transplant earlier this year, however, the operation did not go ahead.
She was added to the super urgent transplant list as her health deteriorated and is now at the top of the list nationally.
Things took a turn for the worst earlier this month when Ruby suffered a collapsed lung and was almost in a coma because she had so much carbon dioxide in her body.
She was transferred to intensive care in Edinburgh where she was given ventilation to assist her breathing.
Mum Diane Boyd said: "Unfortunately this Christmas Ruby won't be able to sit next to our Christmas tree as she will remain in the critical care unit in Edinburgh.
"Ruby is really not having the best time just now and we feel like the window for transplant is closing and the need for a donor is now ever so urgent."
Cystic fibrosis is a life-limiting genetic condition that affects many parts of the body, including the lungs and digestive system, by clogging them up with a thick sticky mucus.
Ruby's plight hit the headlines when she made up a bucket list which included meeting singer Olly Murs.
She was overwhelmed when he sent her a video message and met him in person backstage when he performed in concert at the SSE Hydro in Glasgow in 2017.
Diane said Ruby now has just one more dream to come true – some new lungs.
Many donation opportunities are lost every year because families don't know if their loved one wanted to be a donor or not.
A new opt-out system for organ donation is planned in England by 2020, where adults will be presumed to be organ donors unless they specifically record their decision not to be.
A similar system is in place in Wales. Scotland has plans to introduce an opt-out system, and Northern Ireland has also expressed an interest.