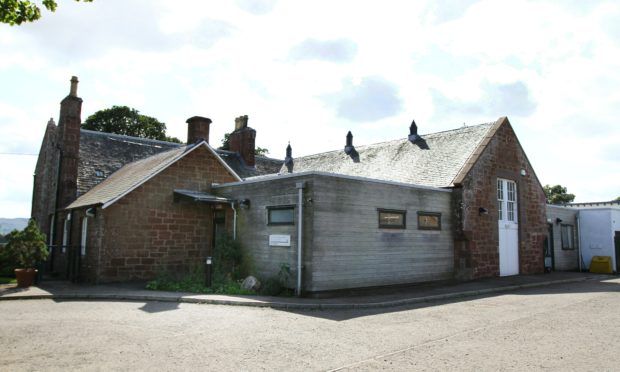 Pupils at a rural Angus primary school damaged by fire have been decanted for the final two days of term.
Transport will be deployed to take pupils from Airlie Primary to nearby Newtyle Primary after the blaze broke out on Tuesday afternoon.
Staff and pupils were evacuated and no-one was injured in the incident.
The school was closed on Wednesday to allow contractors to fully assess the damage.
However, they are back behind the desks this morning.
Overheated light fitting was cause of Angus school evacuation and closure
An Angus Council spokesperson said: "The fire was contained within the cloakroom area, however there has been smoke damage to the adjacent corridor and toilets.
"After initial inspection it's anticipated repairs will be needed to the walls, ceilings and floors in all affected areas.
"The school will remain closed for the rest of this term to allow us to repair the damage to the cloakroom area. We have arranged transport to take the children to Newtyle Primary School."
Local councillors have praised the staff and pupils for evacuating the building successfully.
Angus councillor Ronnie Proctor, Conservative member for Kirriemuir and Dean, said: "I was sorry to hear the children were evacuated but the council have acted quickly to ensure there is very little disruption to their education.
"It was a small fire which proved the head of the school, the staff and the pupils all knew the fire drill and they all got out safely.
"It's sad this happened but, at the end of the day, everybody is safe and well. The council obviously had a plan in place with the pupils going to Newtyle. They've acted quickly to ensure the curriculum is not affected.
"With the school holidays about to start, this will give the council plenty of time to clean the school up in time for it re-opening after the holidays."
Councillor Julie Bell, SNP member for Kirriemuir and Dean, said: "Whilst I'm concerned the fire occurred, I'm hugely relieved no one was injured in any way and that the school's evacuation procedure worked perfectly.
"I'm grateful to the school team for making sure everyone was safe and to the children for playing their part in the evacuation.
"I hope the damage is minimal – I'm sure we'll find out the details in due course."
A spokesman for the Scottish Fire and Rescue Service confirmed the cause of the blaze was an overheating light fitting.
Two fire appliances – one from Kirriemuir and one from Blairgowrie – attended the scene.
Fire-fighters used two breathing apparatus, a hose-reel jet and a thermal imaging camera to deal with the blaze.
Angus schools come off for their traditional Easter break tomorrow, but it is expected staff and pupils will return to Airlie for the start of the summer term on Tuesday April 23.