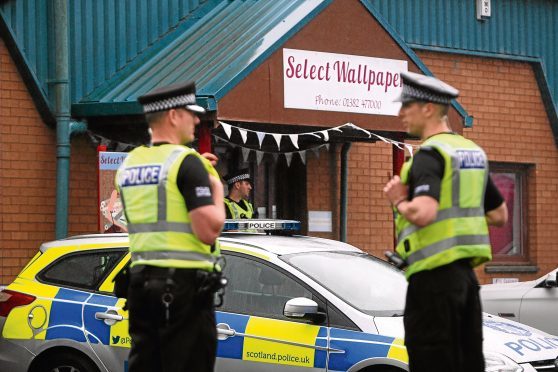 A man whose partner told him their relationship was over asked for "one last hug" moments before he stabbed her repeatedly with a knife, a court has heard.
Gordon Ayre, 54, repeatedly plunged a blade into Mariana Mreana's breast and abdomen after she told him on August 2 that she no longer wanted to be with him.
The High Court in Edinburgh heard yesterday the pair, who had been with each other for seven years, worked together at the Select Wallpaper store in Ainslie Street, Dundee.
The court heard how Mariana was wearing eight layers of clothing at the time of the assault in the shop because she didn't want to go home with the accused to collect her belongings following the break-up.
Mariana, who has been left permanently scarred, was then rushed to Ninewells Hospital in Dundee.
Medics there discovered she had stab wounds to her left breast, her abdomen, her left arm and a cut to the middle finger on her left hand.
The story emerged after Ayre, a prisoner at Perth, pled guilty to a charge of assaulting Mariana to her severe injury, permanent disfigurement and to the danger of her life.
Ayre, who has no previous convictions, also pled guilty to a charge of breaching bail by sending text messages to Mariana on August 24.
A sheriff at Dundee Sheriff Court granted Ayre bail on August 18 with the condition that he didn't contact Mariana.
Yesterday, prosecution lawyer Sean Smith QC told judge Lord Woolman of the circumstances which led to the stabbing.
He said: "The complainer and the accused had been in a relationship for about seven years.
"By July 2017, the complainer had decided she wanted to end the relationship as she craved more independence.
"She began to take some of her belongings from the home she shared with the accused to work, hiding these under the desk of a colleague.
"Towards the end of the working day on Wednesday August 2 2017, the complainer informed the accused that their relationship was over.
"The accused asked the complainer for one last hug, before striking her repeatedly on the body with a knife, penetrating her breast and abdomen.
"The complainer attempted to defend herself, pleading with the accused to stop.
"However, the accused continued the attack and had to be pulled off the complainer by others. Thereafter, the accused repeatedly struck himself on the body with the knife.
"The accused ran from the locus immediately after the attack but he returned shortly thereafter, surrendering himself to police officers."
Lord Woolman deferred sentence for the court to obtain reports about Ayre's character.
He will be sentenced at the High Court in Edinburgh on January 11 2018.