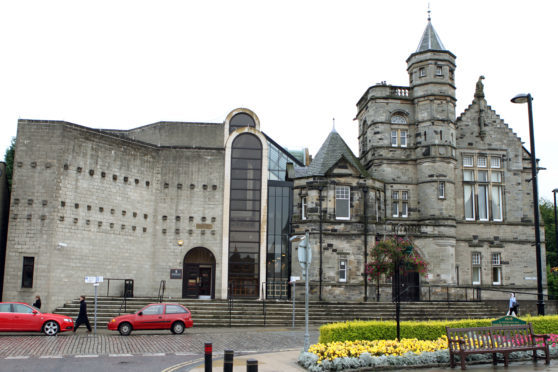 A teenager has been sentenced after a man was shot at with a BB gun in a Fife shopping centre.
Matthew Lindsay appeared at Kirkcaldy Sheriff Court yesterday after admitting his role in the terrifying ordeal which took place on June 16 2017.
The court was told how Matthew and a friend, who cannot be named for legal reasons, were spotted inside the Kingdom Shopping Centre by a CCTV operative at around 5pm
He saw the two youths involved in a verbal altercation with the victim before pointing something in his direction and firing pellets at him.
The man was thankfully uninjured following the ordeal and Lindsay was traced by officers two days later.
Lindsay, 19, previously admitted behaving in a threatening and abusive manner alongside his friend by brandishing an air gun or similar and discharging it towards the victim.
He also admitted shouting, swearing and uttering offensive remarks as well as being in possession of an air weapon without a licence.
Defence solicitor Alan Davie said that while his "childish" client had been involved in the shooting, it was the other youth who had pointed the gun and pulled the trigger.
He added: "The friend had possession of the BB gun and showed it to Mr Lindsay during the course of the day.
"He has then joined in using the item which they did not hold a licence for.
"The complainer wasn't struck by the pellets which may have some bearing on the sentencing of the offence.
"His behaviour was childish but he does recognise how potentially frightening that may have been.
"In terms of licensing, that's not something that had ever crossed his mind or that he was aware of."
Sheriff Jamie Gilchrist QC replied: "He was aware of the fact that you're not supposed to use an air weapon to threaten people in shopping centres.
"He is somebody who has three previous cases for assaults, and two other matters. He's not exactly innocent."
He added: "I think the appropriate way to deal with this case is to impose unpaid work."
The thug was ordered to complete 100 hours of unpaid work within four months.
Detective Constable Stephen Mackenzie from Glenrothes CID said: "We note the sentencing of Matthew Lindsay and want to reassure our communities that we treat all crimes where a firearm is used, even imitation or air weapons, with the utmost seriousness.
"This was an extremely reckless act, which thankfully did not result in any injury to the public, but understandably caused fear and alarm.
"As part of our ongoing Operation Path, we are being proactive in our pursuit of those who carry out crimes of violence, including those who utilise weapons of any sort.
"Should you be found to be responsible for such an offence, you will be arrested and brought before the courts."