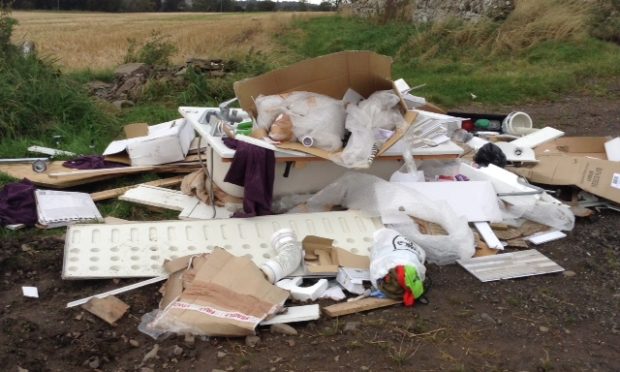 A jogger has sparked a fresh fly-tipping probe in Angus after discovering a gutted bathroom and kitchen on his route.
Former oil and gas health and safety worker Peter Toms, 76, came across the heap of waste while running around a quarter of mile outside the village of Liff on the way to Fowlis.
He was stunned to find the full name of a householder with an Invergowrie postcode attached to cardboard boxes left by the entrance to a field – alongside a bath, pipes, empty paint pots, bathroom fittings and other home improvement detritus.
Keen runner Peter said it was the fourth time in two years he had come across fly-tipping while jogging on his usual route in rural Angus.
He said the name and postcode meant the authorities had no excuses for not tracking down the culprit.
He said: "I thought only a lunatic would think they could get away with something like that. They may as well have added their full address. Though they've probably brought in somebody else to dispose of it for them."
It is the second time this month criminals have left rubbish in Angus with an address attached. Yesterday The Courier told how farmer Norman Ogg turned detective after finding the remains of a kitchen in fields near Letham and traced them back to a house that had been advertised for sale on a local solicitor's website. The homeowner in that case had hired a "man with a van" to remove the waste.
Householders who hire firms to dispose of their rubbish can also face fines if the refuse is then dumped illegally. The maximum penalty is £40,000.
Peter believes fly tippers dumped the waste near Liff overnight between October 7 and 8.
He said the culprits were "inconsiderate louts".
"It was mostly the result of a refitting of someone's kitchen and bathroom," he said.
"I'm sure the perpetrators will receive a visit from the relevant officials some time very soon and I look forward to a successful prosecution in this case."
An Angus council spokesman issued an appeal for witnesses. He said: "We are aware of this incident and have visited the area of private land where it has taken place.
"Officers have spoken with the landowner as part of preliminary inquiries and as our investigation continues we would appeal for any witnesses to come forward."