A Dundee City Council employee named as part of a major corporate fraud probe has been suspended, The Courier can reveal.
Electrical estimator Kenny Muir had his details handed to investigators in relation to a £8.3 million public contract to provide heat and smoke and carbon monoxide detectors in local authority owned-homes.
A series of investigations have established the lucrative deal was subcontracted to Edmundson Electrical by the council department Construction Services, without ever being put out to tender.
The former head of the department, Mark Ross, stepped down from his role in the midst of a probe into claims he attended a golf trip on the Spanish coast paid for by Edmundson bosses. Mr Ross told staff his departure was due to ill health.
The Courier has since learned Mr Muir's name was also passed to fraud investigators by a whistleblower, leading to the electrical estimator being suspended from his job. Mr Muir declined to comment when approached by The Courier.
A third council employee, who is understood to work within the Neighbourhood Services division which includes Construction Services, was also named by the whistleblower in connection with the deal.
A fourth individual, who was accused of selling council-owned smoke alarms online, was allowed to resign in early September after speaking to investigators.
It is understood a manager from the council's city development department has been drafted in to shore up the construction team while the fraud investigation continues.
A source said: "There was some talk about Kenny coming back to work at some point but I don't know if that's going to happen now or not.
"All sorts of rumours are flying around at the moment about what is going on but the council has brought someone external in to help sort the department out."
Dundee City Council refused to comment on what action is being taken to restore confidence in Construction Services and whether staff will be provided with an update.
A spokesman said it "does not comment on individual personnel matters and it would not be appropriate to comment on an ongoing investigation."
The authority previously stated the deal was not put out to tender due to a "degree of urgency" to award the contract in the wake of the 2017 Grenfell fire.
Local authorities across Scotland have been ordered to ensure every council-owned home contains at least one smoke detector in the room most frequently used, one in spaces such as hallways and landings, and at least one heat alarm in every kitchen.
In Dundee, this means the replacement of existing smoke detectors with heat and smoke alarms and the installation of new carbon monoxide detectors. The project is expected to be completed by February 2021.
Scrutiny chief says he has been 'kept in the dark' since highlighting concerns about contract in July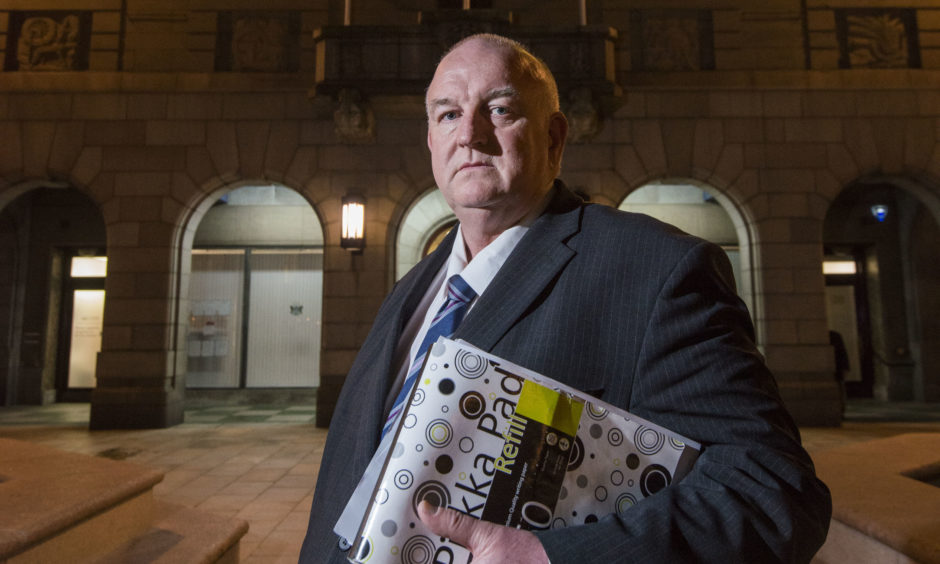 The convener of Dundee City Council's scrutiny committee has accused authority bosses of keeping him in the dark over an investigation into the Edmundson deal.
Dundee Labour group leader Kevin Keenan first raised concerns to the office of the chief executive in writing on July 8 after being approached by members of the public.
Mr Keenan warned executive director of children and families services Paul Clancy, who was filling in for chief executive David Martin, about allegations passed to him that "individual employees have attended a golf outing in Spain as guests of Edmundson Electrical… following on from a large contract being placed with them for fire alarms".
The Strathmartine councillor received two responses from council officers confirming the claims would be looked into but said he received no further update before being contacted by The Courier last week.
Mr Keenan said: "I first raised the issue around four months ago and haven't had any real amount of feedback from officers on where things are since then.
"While there is no update coming from the council and they remain unprepared to comment, it gives the public the opportunity to speculate that people are just being allowed to walk away from this.
"That's why I first raised it with officers. I wasn't prepared to have a situation where this is being talked about in every pub and every street corner in Dundee and the only place it isn't being discussed is in the council chambers.
"The lack of comment since this has come out just fuels the uncertainty and perhaps the administration now need to step in and urge officers to put out a proper update."
Dundee City Council refused until Thursday to confirm publicly any investigation had been launched and still will not comment on the details.
The authority has also repeatedly refused to say whether information has been passed to Police Scotland. The force said yesterday "no ongoing investigation" is being carried out by officers into either Mark Ross or Kenny Muir.
Council leader John Alexander confirmed he first learned about the case on August 26 after receiving an anonymous letter, which he raised with officers the same day.
"I have received the same updates as other elected members," he said.
"I also hosted one of my regular leader's meetings with opposition leaders on October 18 but unfortunately Councillor Keenan was unable to attend. Officers provided a verbal update to all political leaders at that point.
"I am aware of the multiple investigations underway and we should all rightly maintain pressure to ensure that these are taken forward thoroughly and swiftly. I have no reason to believe that this isn't the case."
A Dundee City Council spokesman said there are "regular discussions between senior officers and elected members on a range of matters and any query would be responded to directly".