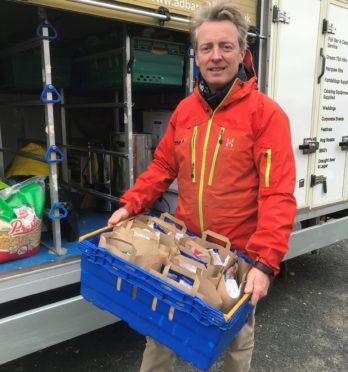 A foodbank drive has been launched to support NHS staff and vulnerable families in Dundee during the coronavirus outbreak.
The scheme, set up by Perthshire adventurer and WildFox Events boss David Fox-Pitt MBE, provides overstretched staff at Kings Cross Hospital with 50 bags of food several times a week.
Staff at Perth Royal Infirmary will also receive 15 bags to help reduce their shopping time.
Children of key workers, who are still attending school, are served freshly cooked pizzas distributed between the city's North East, Coldside and Balarthno campuses.
Mr Fox-Pitt has also teamed up with Dundee Bairns to reach some of the city's most vulnerable children.
Families in Mid Craigie and Linlathen will receive groceries for five weeks, thanks to funding from Siobhan's Trust, a new charity set up to honour Siobhan Dundee, who died last year.
Food will be dropped off at Rowan Tree Primary School, where community officers will deliver the groceries to families who need it.
Mr Fox-Pitt has raised more than £40 million for charities over the last 20 years through WildFox Events.
He said: "What we are hearing is that it's really lifted the morale of NHS staff. I wanted to do something to help as I know how strained the staff are at the minute.
"We're also really keen to help families as this is an extremely difficult time. We have hit a real need here in Dundee and we have to be very aware of the poverty that exists and we have to be ready to help."
Mr Fox-Pitt, from Aberfeldy, said: "We have had great support from so many amazing people so I would also like to thank Ellis Campbell Foundation, Peregrine and Miranda Moncriffe, Blair Atholl Mill, Jason and Caroline McDairmid.
"A vehicle was lent to us by Alison and David Burns to allow us to make food deliveries and Ardvreck School in Crieff donated the pizza over and have made up the dough."
Dundee Bairns founder David Dorward said: "I think when families are having difficulties it can be hard enough to have enough money for food and this scheme will make a big difference.
"We're providing families with food to feed themselves and helping the bairns by making sure the family has enough to eat each week.
"What we're doing there is different from what Dundee Bairns usually does during the holidays but there are so many other community groups in the city who are also doing similar by providing weekly groceries to families in each area of Dundee.
"Dundee is a very caring city and this is a demonstration of how great the city really is."
Groups who would like support from David Fox-Pitt's initiative should call 07710446332 or david@wildfoxevents.com.