A happy couple were able to finally celebrate their wedding in the bride's  cafe at the weekend — after their plans were changed five times during the coronavirus pandemic.
Zoe and Graham Lawson held a scaled back wedding reception in the Sweetpea Cafe in Broughty Ferry after months of trying to work around ever-changing government restrictions.
The couple originally planned to hold their wedding and reception on June 6 at the Dunkeld House Hotel, but that was cancelled because of lockdown.
Other dates were offered as restrictions eased, but when the recent rule of six announcement threw another spanner in the works Zoe and Graham decided to celebrate their big day in a venue closer to home – and to both of their hearts.
The ceremony went ahead at the Perthshire hotel before the guests and wedding party headed to the Sweetpea Cafe for a reception.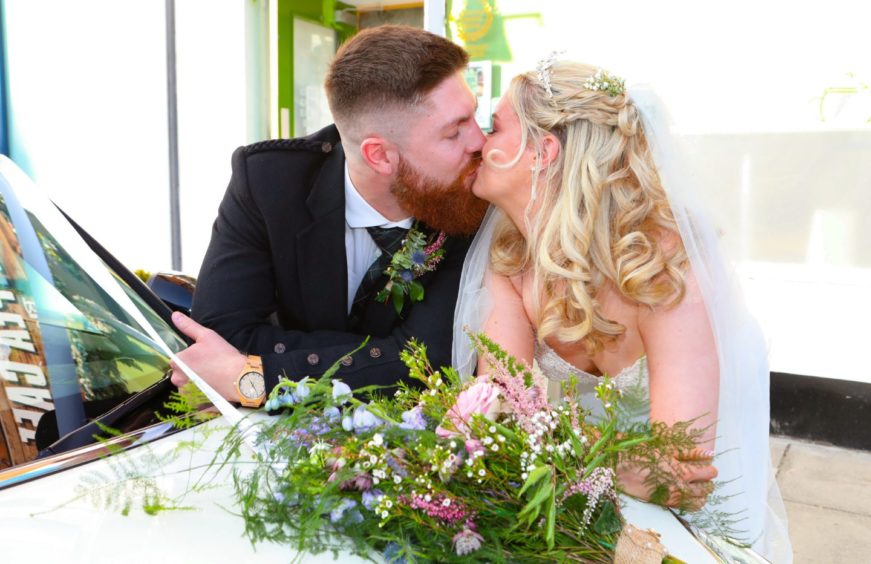 Zoe said: "Originally we had planned to have 150 people at our wedding, so obviously it's turned out a quite different. We had to cut it down to 20 guests.
"The Dunkeld Hotel has been really good to be fair to them. They kept us informed with plenty of time and offered a few dates. The wedding plans changed five times in the end before we just thought let's go for it and have the reception at my cafe.
"It was a brilliant day and I couldn't have asked for more, under the circumstances.
"Our suppliers were all really helpful and Scott Brothers Butcher put on a carvery for us which was amazing. We were really lucky."
Zoe has owned the Sweetpea Cafe on Brook Street for about two years.
She said: "With the plans changing all the time it was stressful, but at least we have the cafe there so it was all good in the end.
"I was the type of girl growing up who planned for a big white wedding, but I'm just glad that we managed to get married now.
"It'll be a story in future. We'll tell people we got married in 2020 and they'll be like 'really'?"
And the change of plans meant the couple were able to look on the bright side in more ways than one.
"It rained on June 6, so I think we were meant to get married when we did," said Zoe.
"It was fate."