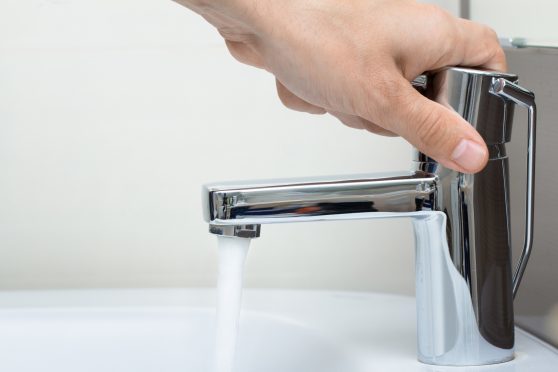 The blistering summer has brought a plea from Scottish Water chiefs to use water wisely in a heatwave which has already seen demand rocket by almost a third.
Without any significant rainfall during the sustained dry spell, water is already being tankered across parts of the county to boost supplies in the bid to quench a daily demand of 1.3 billion litres.
Although there is no suggestion of a hosepipe ban coming into place, shorter showers and fully-loaded washing machines are among the simple suggestions being made to conserve stocks.
The soaring mercury has brought a 30% increase in demand for water during the summer so far.
To meet demand, an additional 140 million litres are currently being pumped through the system daily.
Scottish Water said it has been closely monitoring the situation and managing supplies across the country, including deploying additional resources to move water between distribution areas and tankering water to supplement local networks.
The hike in demand means some water treatment works and distribution networks are already working close to capacity.
It's another warm day across Scotland ? – whatever you're doing this weekend remember when the mercury rises ?️stay chilled & choose to #topupfromthetap using a refillable bottle to keep hydrated. #YourWaterYourLife pic.twitter.com/9KGRTH3TAm

— Scottish Water (@scottish_water) June 30, 2018
Average reservoir levels are reported to be generally normal for this time of year but are reducing.
Both residential and business customers have been urged to reduce usage in any way they can.
Advice for households includes taking shorter showers, using a watering can rather than hosepipe for garden plants and a bucket rather than hose to wash cars.
Scottish Water say taps should not be left running in the home, and washing machines and dishwashers fully loaded.
Scottish Water chief operating officer Peter Farrer said: "Water usage levels during the current hot summer weather, particularly during peak times such as morning and early evening, mean we are working around the clock to get water around the system quickly enough.
"Scotland's public water supply is the lifeblood of the country, for household and business customers. We usually supply more than 1.3 billion litres a day to customers.
"We have a strong and resilient distribution network to keep our customers supplied but we're asking everyone to play their part in helping us as Scotland enjoys its hottest and driest summer in many years.
Environment Secretary Roseanna Cunningham said: "With this forecast to continue, now is a good time for all of us to take action where we can to ensure that we maintain the network's stocks of water.
"Scottish Water is managing current levels of water usage closely, and I encourage people everywhere, whether using water at home, or in their business, to work with Scottish Water and follow their helpful advice and suggestions to use water wisely."