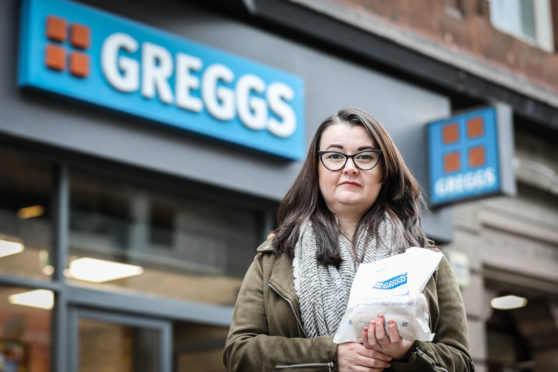 Vegans in Tayside have called on Greggs to bring their controversial meat-free sausage rolls to the region after it emerged that local outlets would not be stocking the product.
The chain bakery launched a vegan sausage roll in 950 stores yesterday, including in Edinburgh and Glasgow — however, Dundee, Perth and other towns across Tayside and Fife missed out.
The baked snack proved to be a point of contention for some, as Piers Morgan called Greggs "PC-ravaged clowns".
The TV presenter said that "nobody was waiting for a vegan bloody sausage", sparking a furious row online.
Nobody was waiting for a vegan bloody sausage, you PC-ravaged clowns. https://t.co/QEiqG9qx2G

— Piers Morgan (@piersmorgan) January 2, 2019
Meanwhile, Dundee's vegans begged to differ, with one passionate advocate of the plant-based lifestyle penning a letter to Greggs.
In his letter, James Bastone said: "I am writing to complain about the lack of Dundee shops on your list of vegan sausage roll locations.
"Dundee is a city with a large vegan population, a dedicated vegan cafe, many vegan-friendly food outlets and yet not one Greggs store here is getting the vegan sausage roll, which we have been looking forward to greatly since its announcement.
"Please let me know when we can expect to start seeing Dundee and Perth stores stocking the vegan sausage roll, as I can guarantee you there is the demand for it!"
James explained that until a few years ago he bought vegan sausage rolls from a shop on Reform Street, but now has to resort to going to health food stores, which have the snack delivered from Edinburgh.
He added: "The people of Dundee love their baked goods and being vegan does nothing to change that.
"I honestly don't know why they don't want to take our money."
Barry Mackie-Conlon, co-organiser of the Dundee Vegan Festival, explained that more and more people in the city were adopting a vegan lifestyle.
He said: "The festival is growing every year and to have a popular bakery like Greggs stock a vegan sausage roll would help to make veganism more mainstream."
Lesley-Anne Kelly, who has been a vegan for 15 years, added: "I'm always happy to see new and affordable options available at the larger chains as it makes veganism more accessible."
A Greggs spokesperson said that there was a possibility of rolling out the product further, depending on how popular it proved.
She said: "Our vegan sausage roll is available in 950 shops.
"Before looking to roll it out further we are keen to gauge customer demand."