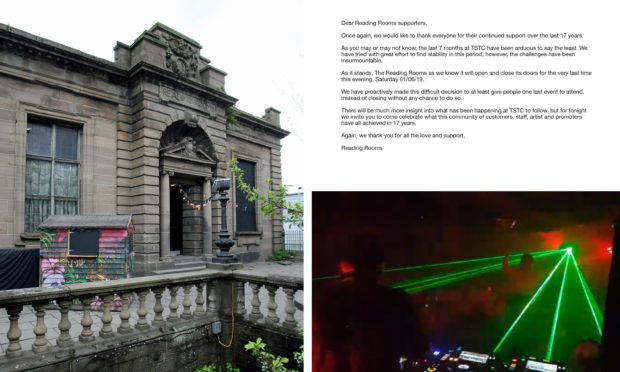 A top Dundee nightclub which closed recently following months of difficulties could move to a new building, its management have said.
The Reading Rooms, located on Blackscroft, had been under scrutiny from the authorities after allegations of drug taking and anti-social behaviour were raised with the police and council.
Managers Jim and Grant Grieves announced it would close permanently on Saturday June 1, blaming "insurmountable challenges".
The pair have now declared they were "wrongfully forced" from the building, which had been the club's base for 17 years — but vowed to return in a new location.
In a joint statement, the brothers said: "This must be clear, we will not be going away, this is what we have done for many years, and it is what we will continue to do for many more.
Dundee venue considered one of Scotland's best nightclubs announces permanent closure
"We have been actively looking for a new space to call home for the last few months, and now have begun the process of securing another venue that will allow our community to grow and thrive like never before.
"We realise that the greatest asset we have is this community.
'Devastated is an understatement': Anger and sadness as Dundee's Reading Rooms closes for good
"This collective of artists, DJs, promoters, staff and above all customers that has formed and flourished in what was an old run down building on the wrong side of town is much more important than bricks and mortar."
The pair said the "love and support" shown from customers was inspiring and that this had given them the confidence to move forward with alternative plans.
Stewart Hunter, the convener of the city council's licensing board, has previously stated that the board took no action against the club in regards to the accusations after a new  manager was installed at the venue.
Police Scotland, who raised the initial concerns, have also stressed that any decisions affecting its operation would have been the responsibility of the licensing board.
Thousands of clubbers, as well as many top DJs who had played at the nightspot, took to social media to express sadness at the news of its closure.
The lease for the converted library is now being advertised by owner Derek Souter, who says there has been "lots of interest" in taking it on.