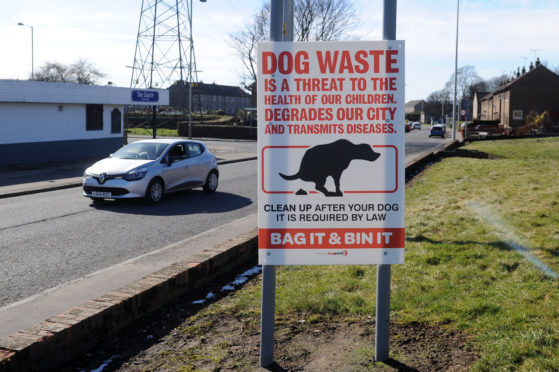 Calls for a change in dog fouling legislation have been made after it emerged Dundee City Council did not enforce the majority of its fines.
In 2018, a total of 65 fixed penalty notices for dog fouling were handed out in the city, of which just 15 were paid.
Failure to pay did not result in any prosecutions, with the local authority stating they were unable to prosecute under the Dog Fouling Act 2003.
Scottish Conservative MSP Bill Bowman MSP said: "It will be impossible to get on top of the problem of dog fouling unless there is an effective punishment that can be issued.
"Any fines that are dished out need to be enforceable or owners will simply not change their anti-social behaviour which can have serious public health consequences.
"If any changes to the legislation need to be made in order to make this happen then the SNP must look at them."
The revelation came about as a result of a Freedom of Information request made to Dundee City Council.
A Scottish Government spokeswoman said that in theory prosecution could be possible if the fine is disputed, in which case the matter would go to a hearing before the Procurator Fiscal, who would then decide if prosecuting is worthwhile.
If a fine is simply ignored, it is treated like a civil debt, enforceable by arrestment of salary or bank account – but the way forward in such event is not prosecution, the spokeswoman added.
It is unclear whether there were any cases of such civil debt collection in Dundee.
A Scottish Government spokeswoman said: "Under the 2003 Act, Fixed Penalty Notices issued by councils are provided for as a more appropriate alternative to prosecution and would normally be the most proportionate response to deal with dog fouling.
"Prosecutions are not excluded but would only be appropriate where it is considered that use of a Fixed Penalty Notice is inadequate or where such a notice is disputed on the facts."
No-one from Dundee City Council was available for comment at the time of publishing.
On its website, the local authority warns dog poo louts that its officers "patrol and monitor the city to ensure compliance with the legislation."
It adds: "Anyone found failing to clean up after their dog will receive a Fixed Penalty of £80, rising to £100 if not paid within 28 days.
"It is also possible that some offenders be reported to the Procurator Fiscal with the potential of a fine up to £500."
Ron Neave, chairman of Fintry Community Council, said the problem had worsened over the past few months.
He explained: "It's especially bad around Fintry Primary School, but it's a city-wide problem really.
"Parents are having to tell their children to look down constantly to avoid stepping in it.
"There isn't much point in paying for dog wardens to issue fines if those fines aren't enforceable."