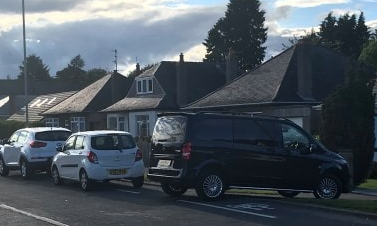 Dundee cyclists have called on the council to clamp down on "thoughtless" drivers who park over cycle lanes.
Many local cyclists have reported routes on entire streets are being blocked, rendering them useless.
Dundee City Council has been investing heavily in cycling infrastructure in a bid to restore the balance in the city away from traffic and in favour of sustainable travel option.
The paths on roads such as Harstane Road, HappyHillock Road, and Bank Street are often blocked.
Neil Quinney, group co-ordinator for Dundee & Angus Sustrans said: "I just feel it's really thoughtless and inconsiderate from the drivers.
"At best they're just not thinking about it. At worst, it's complete selfishness — blocking a cycle path so they can park a few feet closer to where they are going.
"I think the council do need to do more to protect these lanes. The Harestane Road one isn't even enforceable at present and needs double yellow lines.
"I also wonder if the people who park in it when they have a driveway tell their insurance they park on the driveway?"
It comes after Britain's cycling and walking commissioners criticised the use of painted cycle lanes, branding it "tragic" that so much money has been spent on "substandard" infrastructure.
Mr Quinney added that for the lanes to be most functional, they should be segregated, much like many of those in Glasgow.
He said: "Painted lanes will always be problematic, especially as the council and Police Scotland face financial pressures, so enforcement will always be a challenge.
"There is no point in investing in painted cycle lanes if people will just park in them.
"Trades Lane is an example of how light segregation can reduce this.
"Glasgow is heavily investing in fully segregated cycle lanes and this reduces the problem of people parking in them.
"I would say all cycle lanes should be segregated in an ideal world."
A spokesperson for the Dundee Cycling Forum said the group is also pushing for kerb-separated cycle paths.
He said: "This is safer for riders and prevents the paths from being parked in.
"It's easy for drivers to ignore advisory or painted markings so monitoring and enforcement is required to keep painted lanes clear, which is not feasible.
"As well as the parking problem, research shows that 'paint only' lanes can reduce passing distances from overtaking cars.
"It's now clear that in Scotland we're going to miss the government target of 10% of trips by bike by 2020.
"Dundee needs routes throughout the city which are protected, feel safe and are available all the time if we are to do our bit in raising the proportion of cycling trips nationally."
A spokesperson for Dundee City Council said: "We are looking into this."