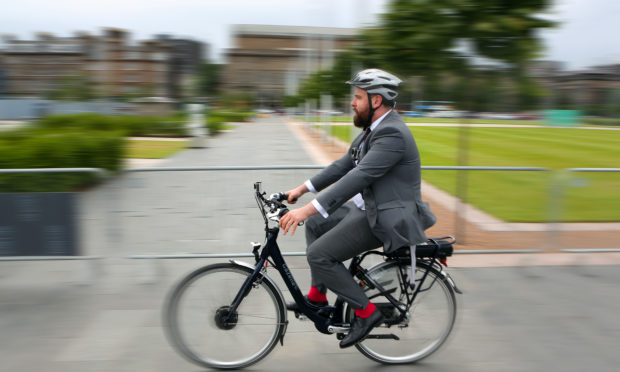 Hundreds of electric bicycles are expected to hit the streets of Dundee next month.
A fleet of 350 e-bikes will be available for public hire, with charging stations springing up from Broughty Ferry to Ninewells Hospital, if plans are approved by the city council.
The proposals for Scotland's first large-scale electric bike sharing scheme are being led by Ride-On, which operates similar services in Madrid and Miami.
Users of Ride-On's website, smartphone app and recharging stations will be able to collect a bike at one station before dropping it off elsewhere.
Steve Pyer, general manager from Ride-On, said: "If all goes well and the bikes prove popular then we hope to double the number so we can fill in all the gaps between the stations.
"Ideally in this kind of scheme there would be no more than 300 yards between docking points. In order to do that, we'd need 600 bikes. That would make it a complete network.
"We have all the stations and bikes ready. We're just waiting on approval."
Each docking station would be capable of housing between 15 and 20 bikes.
The proposed city centre locations include Panmure Street, Dundee Sheriff Court, Euclid Crescent, City Square and near Yeaman Shore car park.
Others include Mill Street in Broughty Ferry, South Tay Street and an as yet undetermined location near Ninewells.
Users will be able to register their account through an app or credit card. The bikes will only charge when they are in the public stations, through specially designed docks, in an effort to deter thieves.
Mr Pyer added: "What's important is that it links up with the existing transport infrastructure so we're choosing these points with that in mind.
"In our research, we've found Ninewells Hospital itself copes with the same amount of traffic as a small town.
"It will be important to link the hospital up with the centre and have other docking stations in between."
He said the scheme was a way to address concerns around congestion, pollution, and health.
"Bike sharing schemes are becoming a big thing," he said.
"Dundee City Council have been really good to work with.
"They just want to move quickly. The city is perfect for e-bikes but probably not so great for regular bikes if you are travelling away from the river."
Several planning applications for the stations have been submitted to the council in the last few weeks and are awaiting approval.
Councillor Kevin Cordell, the local authority's cycling spokesman, is looking forward to the initiative coming to the city.
He said: "They will be a great way for tourists to get around the city.
"Dundee does have some way to go to match the cycling culture in other European cities, but projects like this are another piece in the jigsaw."