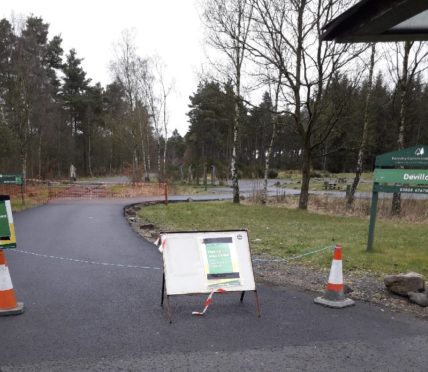 Brazen motorists were rapped for ignoring lockdown guidance and removing cones preventing access to a Fife beauty spot.
The car park at Devilla Forest off the A985 near Kincardine had been taped and coned off but on Saturday, around a dozen cars and a campervan could be seen in the car park.
Police block off Fife beauty spot as people flout lockdown rules across local area
Carol McGinnes, central regional manager for Forestry and Land Scotland, confirmed police had attended the car park at the weekend.
It was the second weekend in a row police had to move people on from the site.
Forestry and Land Scotland, which manages the woodland, closed all of its visitor facilities, including car parks, in response to Scottish Government advice during the coronavirus pandemic.
Ms McGinnes said: "We did not introduce any permanent barriers to Devilla car park entrance as this might lead anyone ignoring the Covid-19 health advice and arriving by car to park – dangerously – at roadside.
"We did cone and tape-off the car park entrance and placed signage advising people that it was closed but this was all later removed and set aside by people coming to the forest against all the current health advice."
She added: "We know that this is a difficult time for many people, but most people are following the rules and we would urge the minority that are still using car parks to stop, follow the NHS and government guidance and lend their support to tackling the Covid-19 crisis.
"We've said that people are welcome to visit a local woodland – one that they can get to on foot, by bike or by wheelchair – as long as during their visit they maintain physical distancing from anyone who is not from their own household."
A spokeswoman for Police Scotland said officers on patrol were engaging with the public to ensure government advice about social distancing was being followed.
"Officers will continue to engage with people, explain the new legislation and encourage anyone who may not be complying to act responsibly and return home," said the spokeswoman.
"It is only as a last resort that they will turn to enforcement action."