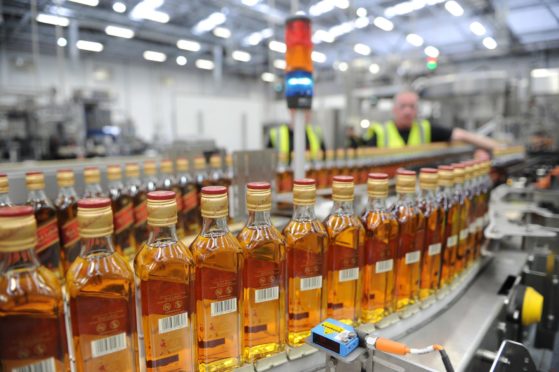 A tariff war between the UK and US will "strangle" any hopes for economic recovery in Tayside and Fife's whisky industry, a leading union has warned.
GMB Scotland has told the Office of the United States Trade Representative (USTR) that Donald Trump's decision to impose a 25% tariff on single malt imports will be a "jobs killer" on both sides of the Atlantic and urged the UK Government to "get in the game" and defend the sector.
Union leaders say the stand-off has already resulted in a 30% drop in exports since October, leading to industry losses of around £30 million a month and with the threat of further tariffs on whisky blends and white spirits, GMB Scotland believes the consequences could be dire for producers and distilleries.
GMB Scotland Organiser Keir Greenaway said: "Trump's tariffs will be a jobs killer on both sides of the Atlantic. There are no winners here, while our members can't afford to wait for Boris Johnson to phone a friend or let the chips fall where they may in future trade negotiations.
"Today we can measure the impact on sales and profits but without intervention that could quickly turn to jobs and communities but it seems the UK Government thinks this is some kind of idyllic tartan-dressed industry to be taken for granted when nothing could be further from the truth.
"Ministers need to get in the game because this is a real jobs powerhouse supporting tens of thousands of livelihoods, from rural distilleries in the Highlands and Islands to labour intensive bottling operations in Fife and the west.
"Scotland cannot do without a thriving whisky and spirits sector but if it's to support our post-Covid recovery and post-Brexit future then we need to stand up to Trump and end these tariffs, and if the UK Government isn't prepared to do this then we'll do it ourselves."
According to industry figures, more than 10,000 people are directly employed in the Scotch whisky sector in Scotland.
A further 40,000 jobs across the UK are supported by the industry – 7,000 of which are in rural areas of Scotland.
Fife drinks giant Diageo has highlighted its concern for the industry, with global supply chain boss Ewan Andrew fearing for smaller distilleries in particular.
"My concern would be for the broader industry and for those smaller players in the industry," he said.
"Right now I am sure it has had an impact on some of their businesses but if it were to escalate, that really would be difficult for Scotland.
"So what's good for Scotch is good for Scotland, and that's why we would encourage a de-escalation so that it doesn't impact thousands of jobs right out into farming and rural communities."
Boris Johnson has described the tariffs as "unjustified" and pledged to "fight them every step of the way", although he was criticised for failing to raise them in recent talks.
He said: "It is my hope we will get a free trade deal not just with our EU friends and partners but able to use that free trade deal to do a parallel deal with other countries including the US.
"At that state the question of tariffs on Scotch whisky should become completely historic, forgotten."