Fife coastal assets bear brunt of storms as bridges and paths suffer significant damage
By
Craig Smith
August 15 2020, 8.43am
Updated: August 15 2020, 9.55am
Several sections of Fife's coastal path bore the brunt of this week's storms prompting renewed fears about the popular tourist attraction's long-term future.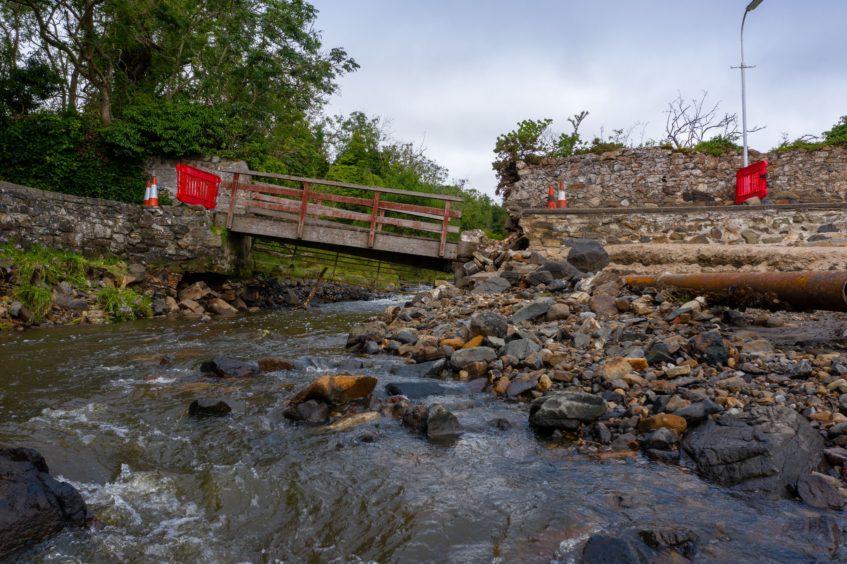 Tens of thousands of locals and visitors travel along the dedicated 117-mile stretch of coastline between the Forth and Tay each year but climate change and coastal erosion continues to pose a significant threat to the landscape.
Staff from Fife Coast and Countryside Trust have been working since Tuesday night's deluge to identify issues on the route, with ad-hoc repairs already under way in addition to projects to identify solutions to more complex site management problems.
Heavy rainfall and electrical storms have forced the closure of the path between Aberdour and Burntisland after a bridge at Starley Falls was completely washed away with no alternative route possible.
The well-trodden bridge over the river between Aberdour Silver Sands and Aberdour Black Sands has also been badly damaged, meaning walkers have been forced to find alternative routes through the village.
There is also damage at Seafield at Kirkcaldy where material has washed off the path and ruts have formed where water channelled.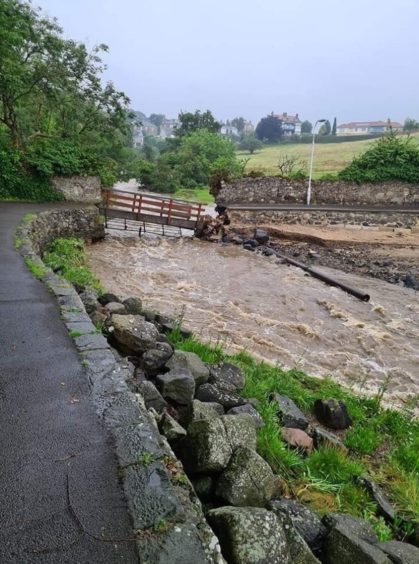 A minor landslide has been reported at Pittenweem, although it remains passable for walkers, the sides of a ramp at eroded Burntisland beach and a drain at Crombie Point was washed away, although that has been repaired by Fife Council and partner organisations.
Parts of the recently-opened Fife Pilgrim Way have similarly been hit, with Fife Coast and Countryside Trust staff describing flooding of the path at Loch Fitty as the worst they had ever seen at that site.
Jeremy Harris, chief executive of the Fife Coast and Countryside Trust, admitted the organisation is facing a huge task.
"As weather patterns become increasingly unstable, we as an organisation are faced with the challenge of maintaining many of Fife's coastal amenities, which presents significant financial challenge, due to the unplanned nature of these dramatic weather events.
"The Fife Coastal Path and the Fife Pilgrim Way are of huge value to the economy of Fife and it is vital that these amenities and other outdoor resources are appropriately funded, so they can continue to deliver a positive visitor experience."
A report carried out by the Scottish Government and Scottish Natural Heritage recently estimated almost a fifth of Scotland's coast is at risk of erosion, threatening property and infrastructure worth around £400 million.
Areas deemed to be at the highest risk included the historic Wemyss Caves, the world-famous St Andrews Links golf courses and Ravenscraig Castle in Kirkcaldy.
Researchers with the Scottish Coastal Heritage at Risk Project (SCHARP) pinpointed other places along, or near, the Coastal Path under threat.
They include Seafield Tower in Kirkcaldy, Pettycur Harbour near Kinghorn, Newark Castle at St Monans, the salt pans at Crail and St Monans, the Flisk Seabraes submerged forest at Balmerino and the disused Pile Lighthouse marking the entrance to Tayport Harbour.
Dr Joanna Hambly, a research fellow at the University of St Andrews, said: "You can build coastal defences but you are talking many millions of pounds and if you start putting in hard coastal defences you tend to move the problem along.
"If you think about the coast between Methil all the way down the Forth, quite a lot of that coast is defended now and what that means is that the energy is deflected into softer areas."
A spokesperson for the FCCT has urged members of the public to bear with them as they respond to problems, and said anyone concerned about any of the sites should email ask.us@fifecoastandcountryside.co.uk with details.