Listed school building in Kirkcaldy ravaged by fire was set to be converted into flats
By
Aileen Robertson
August 17 2020, 8.19am
Updated: August 17 2020, 12.25pm
The C-listed Viewforth High building, which was engulfed in flames on Saturday night, was poised to be turned into flats.
VIDEO: Smoke rises as 'large fire' strikes former school in Kirkcaldy
A planning application had been submitted to create 14 apartments at the building in Loughborough Road.
Whiteburn Viewforth LLP's proposal also included nine new-build flats and 68 family homes at the site.
Following a previous fire at the B-listed annexe of the school, formerly known as Eastbank House, Whiteburn said the plans would still go ahead.
Police investigating after former Kirkcaldy school previously targeted by fire-raisers is gutted by blaze
However, it is yet to be seen how the latest blaze will impact future development of the old school.
And the integrity of the structure will have to be assessed to determine if it will escape demolition.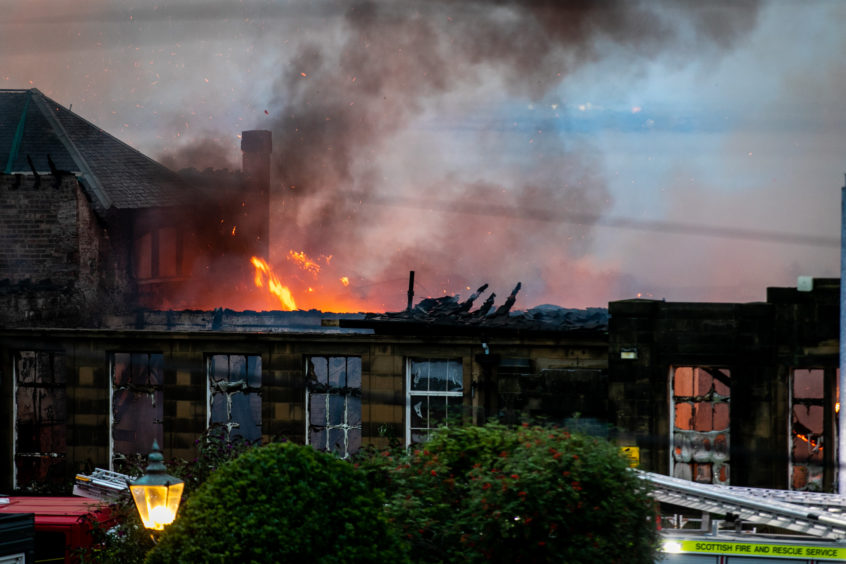 Officers from Fife Council's building services department were at the scene on Sunday to examine the damage.
Ian Cameron, who is a Labour councillor for Kirkcaldy East, said it was a "devastating blow for the area".
He said: "This will have affected many people who have memories of the school and I'm sure a lot of people will be annoyed and angry at what's happened there.
"Whiteburn had a public consultation and are the kind of organisation who would be sympathetic to the existing buildings, and that's what they had demonstrated.
"That's a prime site and gets great views over the Forth. It could have provided good economic regeneration for central and east Kirkcaldy.
"It's very disappointing and, for many, quite upsetting.
"There were good plans to take the site forward and let's hope this has not affected the overall development, and they can salvage as much as they can of the building."
No decision had been made on Whiteburn's plans. However, the developer was in an advance stage of working with the council to prepare the proposal.
Whiteburn had planned to remove later extensions to the C-listed main building, which they said would have a beneficial effect on its appearance.