Developer behind housing plan for former Fife school destroyed by fire still keen to see 'viable future' for site
By
Craig Smith
August 18 2020, 7.48am
Updated: August 18 2020, 9.44am
Talks to ensure a "viable future" for the site of a former Fife secondary school are to continue despite the devastating fire which destroyed much of the historic building.
Edinburgh-based developer Whiteburn Projects insists it remains committed to redevelopment of the old Viewforth High School site in Kirkcaldy's Loughborough Road.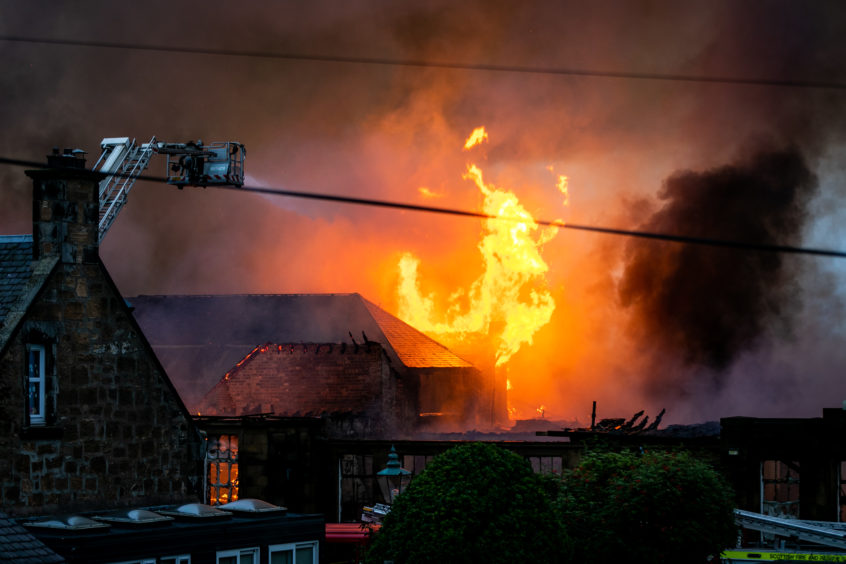 New lease of life planned for former Kirkcaldy secondary school
The school has been hit by fires and vandalism since it closed after 108 years in 2016, when pupils and staff moved to the new Viewforth High, within the Windmill Campus.
A B-listed annexe was badly damaged by a blaze in October 2017 and then was targeted in January. The latest fire, on Saturday, saw much of the C-listed main building go up in flames.
Whiteburn Projects say it still wants to salvage its blueprint to build up to 100 two, three and four-bedroom properties on the former school grounds.
Managing director Eve McCurrich said: "We are consulting with Fife Council, who currently own and insure the building, to determine the most viable future for the former school building after such extensive damage.
"While the planning application process for this development has been delayed due to Covid-19, we remain committed to the redevelopment of the overall site.
"Following our ongoing discussion with the planning department at Fife Council, we hope that our application can be reviewed at planning committee at the end of September, in order to determine the principle of redevelopment, such that local residents can see a positive outcome across the former school site."
Under Whiteburn's plans, the C-listed school building was to be renovated and converted into apartments, with new-build flats and 68 family homes also proposed as part of the site's wider redevelopment.
Six fire appliances were on scene at the peak of the blaze and officers from Fife Council's building services department were at the scene on Sunday to examine the damage.
Ian Cameron, who is a Labour councillor for Kirkcaldy East, said it was a "devastating blow for the area".
He said: "This will have affected many people who have memories of the school and I'm sure a lot of people will be annoyed and angry at what's happened there.
"Whiteburn had a public consultation and are the kind of organisation who would be sympathetic to the existing buildings and that's what they had demonstrated.
"That's a prime site and gets great views over the Forth. It could have provided good economic regeneration for central and east Kirkcaldy. It's very disappointing and for many, quite upsetting.
"There were good plans to take the site forward and let's hope this has not affected the overall development, and they can salvage as much as they can of the building."
A full investigation into the cause of the latest fire is under way, and Police Scotland is  refusing to speculate on suggestions it was started deliberately.