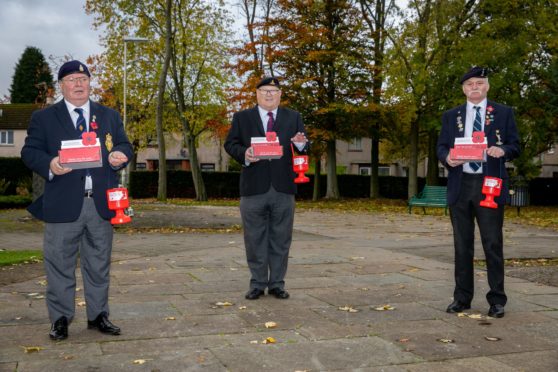 Fifers are being urged to dig deep to support the annual poppy appeal despite fears that ongoing Covid-19 restrictions could severely hamper collections.
British Legion representatives in Fife say that there has been a 30% reduction in the number of shops, pubs and other establishments selling poppies on their counters this year because of the coronavirus pandemic.
In 2018, the Poppy Appeal across the UK raised a record £55m, distributing 40 million poppies, seven million pin badges, according to latest British Legion figures.
However, organisers say are bracing themselves for a greatly reduced collection this year because of the impact of the pandemic.
Organisers say that volunteer numbers of those who are normally out in public rattling collection boxes and selling poppies has also fallen sharply because many are shielding or self-isolating.
British Legion representative, Ron Smith, collections organiser for the Glenrothes area, said the pandemic is already having a devastating effect on this year's collection and he is now urging the public to show its support in other ways.
He said: "Around a third of shops and bars that would normally sell poppies for us are now closed during the appeal week while many our kind volunteers are shielding at present as most of us are in the over sixties bracket.
"That's why I have set up a just giving page to help those who cannot get to their usual donation point."
Claire Rowcliffe, director of fundraising at the Royal British Legion, said: "While the Covid-19 pandemic undoubtedly makes running the appeal more difficult, the additional hardships it has brought about mean our work is now more vital than ever.
"The pandemic has had a devastating impact on people's livelihoods and way of life, leaving some in the armed forces community in dire need of urgent help and support.
"We are seeing people struggling to cope with the loss of loved ones, facing homelessness and unemployment, and battling mental health issues."
In the absence of a Remembrance Day ceremony, Dunfermline and West Fife SNP MP, Douglas Chapman said he is to donate the cost of a wreath to veterans charities and is urging others to do the same.
He said: "For most of us we are part of families who fought in various conflicts around the world.
"This year we have a very different kind of war on our hands and, due to the virus, we won't be able to remember those who were lost in battle in the same way.
"Poppy Scotland, SAAFA and the likes of Erskine Care Homes all do great work, not just here in West Fife but across Scotland and I would urge all those who would normally dig deep into their purse or pocket to give to veterans charities do so online this year.
"Many charities have set up apps which can be downloaded to your phone, so it's a very easy and secure process to make a donation."
Anyone wanting to make a donation can do so online at www.justgiving.com/fundraising/ao-glenrothes