Site operators at Mossmorran have been slammed for heaping more misery on Fife communities after a complete shutdown of the plant sparked another period of flaring.
Emergency flaring, which can be seen for miles around, started at the Fife Ethylene Plant near Cowdenbeath just before 5pm on Friday afternoon in response to a small gas leak and is expected to continue well into Sunday.
ExxonMobil Chemical released a statement apologising to the local community for "any concern or inconvenience" caused by the flaring operation and said it had been necessary following an issue in the plant's refrigeration system.
Nevertheless, the latest incident has prompted renewed criticism from various quarters.
Mid Scotland and Fife Green MSP Mark Ruskell said the effects of the flaring process can be seen and heard for miles around, causing severe inconvenience and distress for communities affected.
"This latest incident once again shows the contempt the operators hold neighbouring communities who have flooded me with complaints," he said.
"Exxon Mobil state that the flaring poses no danger to local communities yet the noise, bright light and vibration that comes with the flaring process makes it virtually impossible to get a good night's sleep."
Many people living in the vicinity have long complained about flaring at the plant, citing worries about the impact of pollution, noise and the light emanating from the huge flare.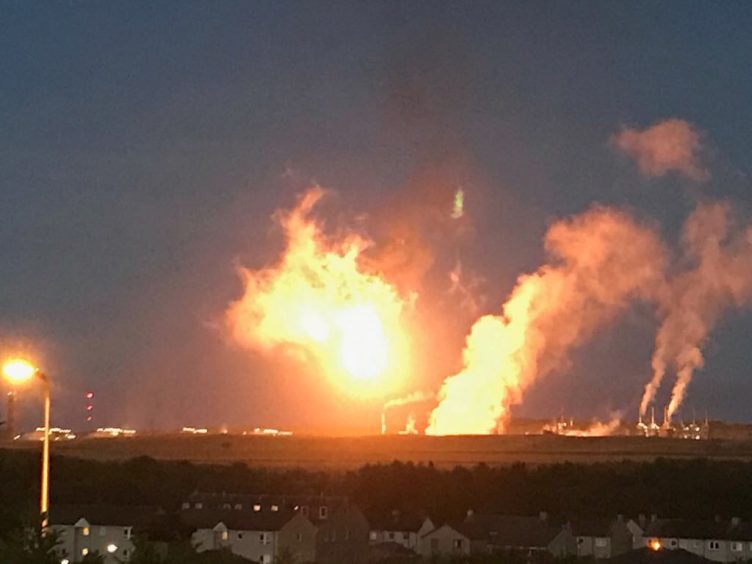 Those fears were heightened over the summer when there were two episodes of flaring lasting seven days in June, and a public meeting was held in July after numerous complaints were made.
There were even suggestions that the flaring had caused some local children to wet the bed, with one boy believing his illuminated bedroom was on fire like scenes he had watched on the news of Grenfell Tower.
A spokesperson for ExxonMobil Chemical said on Saturday afternoon: "Work to resolve an issue with the refrigeration system at ExxonMobil Chemical's Fife Ethylene Plant at Mossmorran is proceeding well, and we expect to begin the process to re-start the plant in the next few hours.
"The re-start is anticipated to take 36-48 hours, during which time flaring will still be necessary.
"Local residents may notice greater variation and possibly some interruptions in the flaring during this time.
"We are doing all we can to minimise any disturbance to the local community and apologise for any concern or inconvenience caused.
"Safety and environmental protection are our highest priorities, and we continue to keep all relevant authorities informed as we resolve the issue and return FEP to normal operations as soon as possible.
"The flaring, which began just before 5pm on Friday afternoon, is an essential part of the plant's safety systems and there is no danger to local communities or employees."
The Scottish Environment Protection Agency (SEPA) said it was continuing to liaise with ExxonMobil in relation to the current flaring and confirmed it had received a number of calls from members of the public.
"We are in contact with ExxonMobil to ensure the operator does all they can to minimise the impact of this activity on the local community," a SEPA spokesperson added on Saturday.
"At present we understand that flaring is likely to continue into tomorrow."
Hundreds have people have taken to social media to highlight the flaring this time around, with people from as far away as Angus in the north and Jedburgh in the south saying they could see the effects of the flare.
The eye of Mordor shines again over Edinburgh. pic.twitter.com/Inc4F2NdF1

— Iain Macwhirter (@iainmacwhirter) October 28, 2017
Lesley Laird, Kirkcaldy and Cowdenbeath MP, has met with the plant and SEPA in recent months and is calling for a round table meeting to discuss the ongoing issues.
"I think the whole approach and communication with the public has been very poor, and I equally think that SEPA's approach has not been particularly helpful either," she commented.
"They've taken on board a number of suggestions I have made to be fair, but there has been more flaring incidents than in the past and we need to understand why that is and what has been causing them."
Earlier this month, Shell's new installation manager at Mossmorran, Teresa Waddington, said the company was as eager as the community to avoid flaring.
For more, see Monday's Courier.