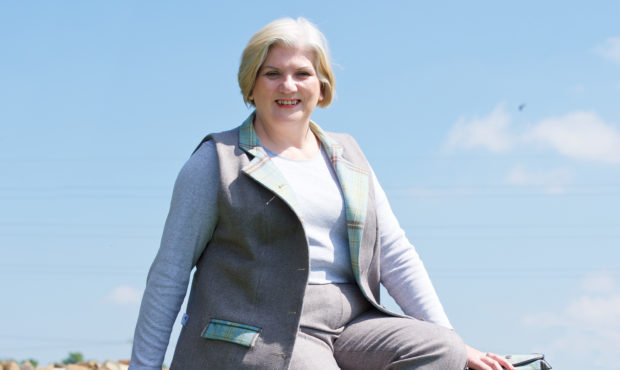 A Fife farmer's wife has resolved to turn 2018 into a stylish one.
The Cardenden designer aims to see her exclusive tartan business take off in the UK and abroad.
If you want something done, learn to do it yourself — that's the motto of businesswoman Wendy Crawford who lives with husband Matthew on Powguild livestock farm.
Wendy, who has run a training and business consultancy for 25 years, taught herself tailoring when she wanted a jacket.
And she has now ended up launching a clothing business aimed at curvy ladies looking for high quality, stylish pieces.
Now she looks set to take on the North American market.
The House of Bluebell is the brainchild of Wendy, who taught herself, and then others, how to tailor her exclusive tartan garments.
They have featured in luxury magazines and were the talk of the town, particularly among African-American women, on a recent trip to Memphis with the rural leadership programme of Scottish Enterprise.
The visit to the USA was a pilot to explore international trade for rural businesses.
It included sessions with Edinburgh University and Memphis University Business School professors as well as time with American women in agriculture who are exploring new business opportunities with textiles as well as produce.
Reactions to Wendy's garments were extremely positive with women asking where they could buy them in the States.
Explaining her ambitions, Wendy, who has 12 cats, three llamas and a pet highland cow, said: "I'm a very practical Fifer and when I have an idea I just want to get on with things.
"On the farm, we produce fine wool from Cheviot sheep and it has always frustrated me that Scottish textiles don't get the full recognition they deserve.
"So, I decided to design something flattering for ladies of a certain age and size.
"It took a long time to learn the tailoring and get everything right but customer reaction has been fantastic and I'm looking forward to 2018 as the year to spread my wings and look to the rest of the UK and USA for sales."
The House of Bluebell production, where son Phillip is design team manager, takes place on the farm and includes jackets, trousers, gilets, skirts and accessories made from their bespoke tartan.