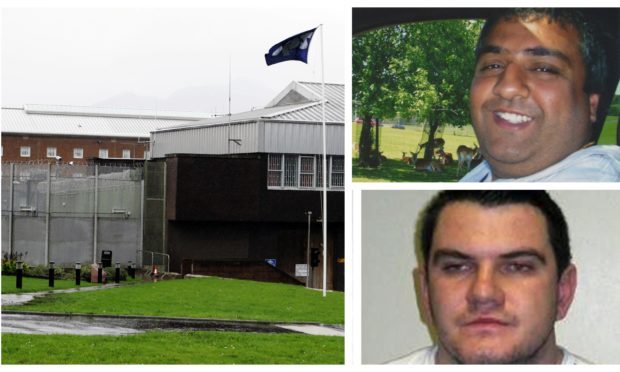 A "fixer" who helped a property developer arrange the murder of his brother in Glenrothes has been found dead in jail.
Deyan Nikolov, 33, was serving a life sentence at Glenochil Prison in Clackmannanshire, having played a key role in the assassination of businessman Toby Siddique.
Mr Siddique was repeatedly shot in the head at a flat in Forres Drive on October 24, 2010.
Nikolov was jailed alongside hitman Tencho Andonov and Mo Siddique, who had ordered the shooting of his brother.
A source said Nikolov's death behind bars may have been drug-related.
The Scottish Prison Service confirmed that Nikolov had died but said it could not comment on the circumstances.
A spokesperson added: "A fatal accident inquiry will be held in due course."
Bulgarian Nikolov helped mastermind the murder plot which shocked the Fife community.
He was a bouncer at Blue Monday nightclub in Kirkcaldy when he introduced Mo Siddique, who owned the venue, to gunman Andonov.
He acted as a middleman between the two and was caught on CCTV in the Bank of Scotland in Kirkcaldy paying a cheque for £8,792 into Andonov's sister's account.
His involvement in the murder of the 38-year-old became clear when police analysed calls made to and from his mobile phone.
Hours before Mr Siddique was shot, Nikolov sent a text to Andonov in Bulgarian saying: "Don't bring anything. Got it sorted."
In 2013, Nikolov's 18-year sentence was increased by five years after prosecutors appealed, claiming he had got off too lightly.
Lord Clarke said at the time: "A clear message has to be sent out by the court that those persons who choose to involve themselves in the preparation and execution of premeditated contract killings involving the use of firearms should anticipate being severely punished by the court."
Mo Siddique unsuccessfully appealed to have his minimum sentence of 25 years shortened.
However, Andonov had his sentence cut from 29 to 27 years.
Explaining the increase in Nikolov's sentence, Lord Clarke said the Bulgarian had been involved in more than one attempt to lure Mr Siddique to his death, knew a gun was to be used and tried to help Andonov escape from Scotland afterwards.
He said his role was "clearly fundamental" and he was going to be paid for his trouble.
The murder trail at the High Court in Edinburgh was one of the longest and most expensive held in Scotland.
A jury heard the background to the killing was a long-running feud between the brothers over control of their tangled business interests, especially their lucrative company, Moncrieff Properties, which let out hundreds of homes in Glenrothes and Kirkcaldy.