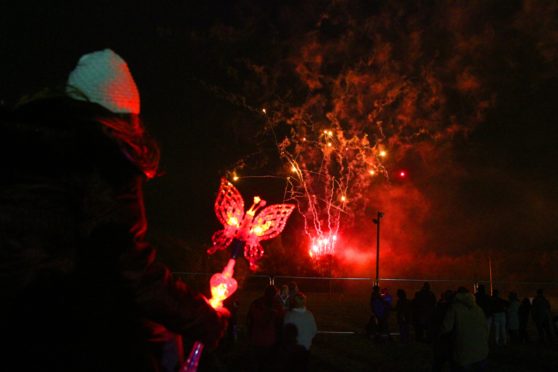 A Fife teenager is lucky to be alive after being viciously stabbed twice in the head while attending a community fireworks display.
The shocking incident took place near Cardenden's Wallsgreen Park on Friday evening, when hundreds of people gathered to see the village's annual bonfire and fireworks show.
The Courier has learned the 17-year-old victim of what appears to be an unprovoked attack was set upon by a group of around eight youths at a bus stop and was repeatedly punched and kicked.
One of the group is then said to have stabbed the young man – once in the side of the head and once to the back of the head – with a sharp implement, leaving him lying in a pool of blood.
A group of girls intervened and the attackers fled the scene. The injured teenager was taken to a house nearby and tended to by an elderly couple while an ambulance was called.
A relative of the victim, who did not want to be named, hopes those responsible for the assault will be brought to justice, and paid tribute to everyone who assisted on the night.
"Without their help, who knows where he might have ended up," the relative said.
"This attack was unprovoked and it seems the coward is still out there feeding off of other people's pain.
"Although he (the victim) is physically on the mend, the psychological damage may take some time to overcome.
"We have been lucky as a family to have him back this weekend."
The relative said the victim, who is a former pupil at Kirkcaldy High School, had been approached by a young man who wanted to "shake his hand", before another teenager did likewise.
The victim then spotted the latter try to take something "shiny" from his trouser pocket, at which point he decided to run away to get away from the situation.
He then ran to a bus stop where a bus was due but running late, and he was subsequently attacked by a large group of boys.
The alarm was raised with an elderly couple on Cardenden Road, and they tended to his wounds, trying to stop the bleeding and keep him conscious before paramedics arrived.
The teenager was taken to Kirkcaldy's Victoria Hospital and required stitches and glue in both wounds.
Police are investigating the incident and have urged anyone who may have witnessed what happened to contact 101.
A Police Scotland spokesperson said: "The incident happened at around 9.15pm on Friday November 9 in the Cardenden Road area.
"Emergency services attended and a 17-year-old boy was taken to hospital with serious, but not life-threatening, injuries.
"Inquiries are ongoing and anyone with information is asked to contact Police Scotland via 101, quoting incident number 4308 of November 9, or Crimestoppers anonymously on 0800 555 111."