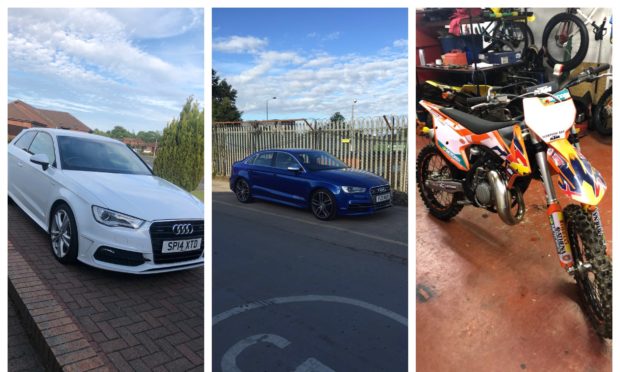 Thieves have made off with £50,000 worth of vehicles after ransacking a Glenrothes home.
An Edinburgh-based gang is believed to have stolen car keys from a house in Greystone Park, before carrying out the high-value theft under cover of darkness.
A white Audi A3 Quattro, a blue Audi s3 saloon and a pair of orange KTM motocross bikes were taken in the raid.
Owners Connie Scott and her brother Murray are now trying to spread the word far and wide to make the vehicles "too hot for the road".
Connie said: "Through the night on Thursday into Friday, between 11pm and 4.30am, we had a gang of people break into our home and steal keys to three of our cars.
"They successfully managed to take away two of them, along with two KTM motorbikes that were in our garage.
"Any help would be greatly appreciated at such a horrible time for us."
Connie said CCTV footage had captured four men hanging about the street the night before the theft.
"They were checking out everyone's houses and drives for cars and we are assuming they are the same ones who came back the next night and broke into our home," she said.
"The police seem to think it is likely to be a well-known gang from Edinburgh who target high-value cars."
She said the vehicles were last seen at 4.30am on Friday heading south on the Forth Road Bridge.
"This is a high-value theft and we have been trying to spread the word and circulate photos and information on our stolen goods to try and make them too hot for the roads," she added.
"Hopefully whoever did this will be caught and our goods found."
Police confirmed they were investigating the thefts.
A spokesperson said: "We received a report of two cars and two motorbikes being stolen from an address in Greystone Park, Glenrothes, around 6am on Friday May 31.
"A white Audi A3 with the registration SP14 XTD and a blue Audi S3, registration F20 MUR, were stolen.
"The two bikes are described as orange KTM motocross bikes.
"If anyone has information or has seen these vehicles, please contact us on 101 quoting incident number 0451 of May 31 2019."