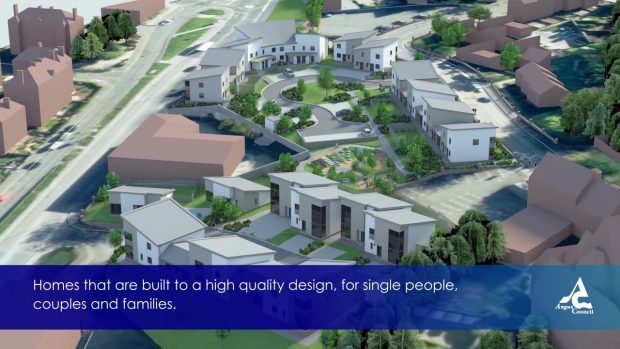 The renaissance of the area surrounding Arbroath Abbey continues as 40 new homes begin to take shape in the Abbey Quarter.
Developers promise twelfth century monastic architecture is blending with 21st century environmentally-aware construction techniques as efforts continue to transform the area with affordable housing and community space.
The development of 28 one bedroom flats, six two bedroom flats, one two bedroom bungalow, four three bedroom houses and one four bedroom house has incorporated references from the abbey and historical associations.
The new, energy efficient homes are low rise to ensure the best views of the iconic landmark are retained.
Pat Millar, a community representative on the Arbroath Locality Partnership said: "It's great to see the area really taking shape.
"Housing-led regeneration projects are a key component in our Arbroath Locality Partnership's vision to make Arbroath a better place to live, work and visit.
"But it's about more than aiming for high quality housing for all – it is about improving the town's infrastructure and its environment so Arbroath is more accessible and more enjoyable for people to get around, to live, work and play."
The £7-million Abbey Quarter development – on the footprint of Guthrie Hill and Smithy Croft – is supported by £2.3 million of Scottish Government grant funding and will provide much-needed homes for rent near the town centre, where previously there were multi-storey blocks that were unpopular and, over time, proved hard to let.
Councillors and officials visited the project, which is expected to be completed in 2020, to view the first stages and discuss the plans in detail.
Communities convener Craig Fotheringham said: "I'm delighted to see the progress being made here at Abbey Quarter. This project will assist us in providing more high quality places that people are proud to call home. The design is contemporary, but sits perfectly alongside our historic Abbey and I am certain the people will be delighted to live here."
The construction of the new properties has not been without incident.
Earlier this month a group of teenagers were risking their lives in a dangerous craze on the site by scaling scaffolding, prompting the police to issue a warning for them to stop before an accident happens.
Angus Council were forced to issue a warning that this type of "irresponsible behaviour" has, in the past, led to "serious injury and even death", and ordered those involved to "keep out".