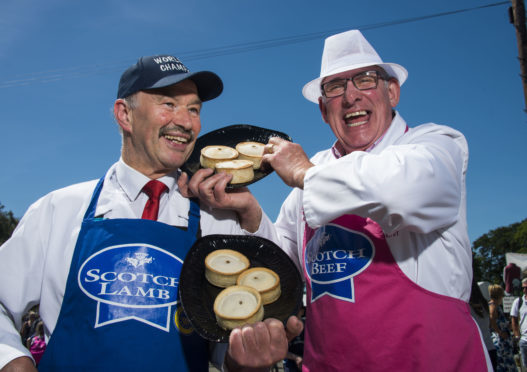 The baker beat the butcher as the gloves came off in a classic battle of the pies fought out in the heart of the Royal Highland Show.
In a contest to rival the biggest-name sporting showdowns, Angus butcher Alan Pirie donned his apron to take on Ayrshire baker Stephen McAllister in a championship bake-off between the two men who boast more than a century of experience and a barrowload of awards between them.
Alan, of family firm James Pirie & Son Butchers of Newtyle, fought it out with Stephen of the Kandy Bar Bakery in Saltcoats in front of a packed audience on the Quality Meat Scotland stand.
In the Angus corner, Alan entered the heat of battle as the current World Scotch Pie Champion, with more than 180 trade awards to his name.
Stephen won the World Scotch Pie Championship in 2014 and 2016 and heavyweight credentials which also included Scottish Baker of the Year titles in 2016 and 2017 helped the Ayrshire man to glory.
The pair were praised for their pie-making passion during a lively and entertaining contest in front of the Ingliston crowd, with presenter Bryan Burnett commentating on the showdown and firing audience questions at them.
The aim of the challenge was to create a Scotch pie using either Scotch beef PGI or Scotch Lamb PGI to impress competition judge, acclaimed chef Justin Maule of Wild Fig Food.
Each of the contenders said it was a perfect opportunity to highlight the quality of ingredients on which they rely in their respective businesses.
Victor Stephen McAllister said: "We use only the finest ingredients including prime Scotch Beef mince coupled with our own secret selection of rusks, spices and peppers and we make our own Scotch pie shells and lids."
"Today's competition was loads of fun but I wanted to win. It was fantastic to entertain the audience and inspire them about quality bakers and butchers and Alan was great fun."
Alan is a second-generation family butcher in the Newtyle shop established by his father, Jim in 1960.
He said he takes great pride in sourcing beef, lamb and pork from local farmers and the shop is popular with customers from far and wide.
QMS Scotch Butchers Club manager Graeme Sharp said the fun event had been a win-win for all involved.
"The bake-off was a fantastic opportunity for show-goers to enjoy watching the skills of both men, witnessing the keen spirit of competition between the world champions and, of course, tasting their award-winning Scotch pies," he commented.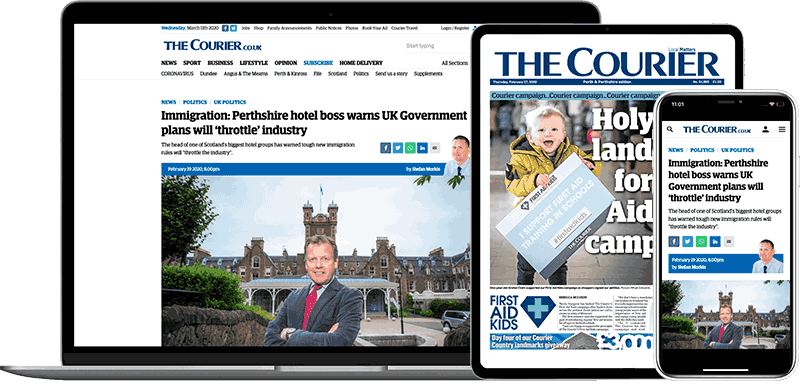 Help support quality local journalism … become a digital subscriber to The Courier
For as little as £5.99 a month you can access all of our content, including Premium articles.
Subscribe