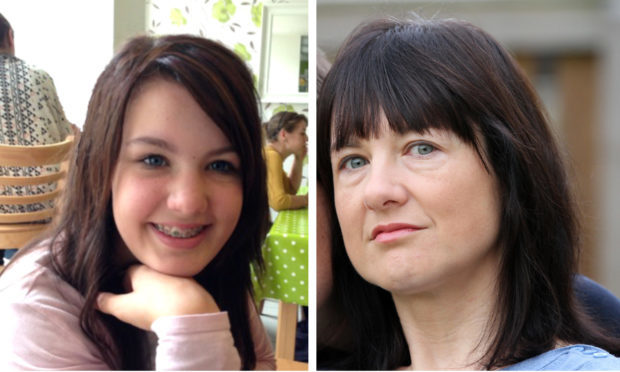 The mother of a Liff teenager who committed suicide has said the blame for her daughter's death lies squarely at the feet of NHS Tayside.
Sophie Parkinson, a pupil at Dundee High, died in 2014 aged just 13.
Her mother, Ruth Moss, has said the health board let her daughter down after "six years of really struggling" and that they treated two previous suicide attempts as "childish cries for help".
Ms Moss said Sophie was denied the basic treatment needed to help her deal with her mental health issues.
The condemnation of NHS Tayside came after an independent inquiry into mental health services across the health board was commissioned last month.
Ms Moss, who is suing the health board, said she believes NHS Tayside's Child and Adolescent Health Services (CAMHS) did not support Sophie enough after her two previous suicide attempts and that their risk assessments were "hugely inadequate".
She told BBC Scotland: "I'm absolutely sure that if CAMHS had given a good standard of care, nothing exceptional, just a good standard and had some element of accountability throughout the process then Sophie would be alive today.
"I hold NHS Tayside responsible for Sophie's death. It's made me angry, upset, hurt – a whole barrage of other feelings."
And to add insult to injury, Ms Moss feels that the investigation after Sophie's death was inadequate.
She added: "That was not robust and rigorous in my view.
"It tended to pick the things I'd complained about and answered them, but it wasn't an independent review process.
"NHS Tayside investigates NHS Tayside. Turkeys don't vote for Christmas and there seems to be a flaw in that right from the start.
"We need a process here whereby parents of children who have died in the health service have an ability to find out what went wrong and be absolutely reassured that the investigation is robust.
"I would like the process for investigating deaths in mental health to be looked at to ensure there is a good investigatory process that works."
An NHS Tayside spokeswoman said it could not comment due to the legal proceedings, but that "every suicide is a tragedy and our thoughts remain with the family".