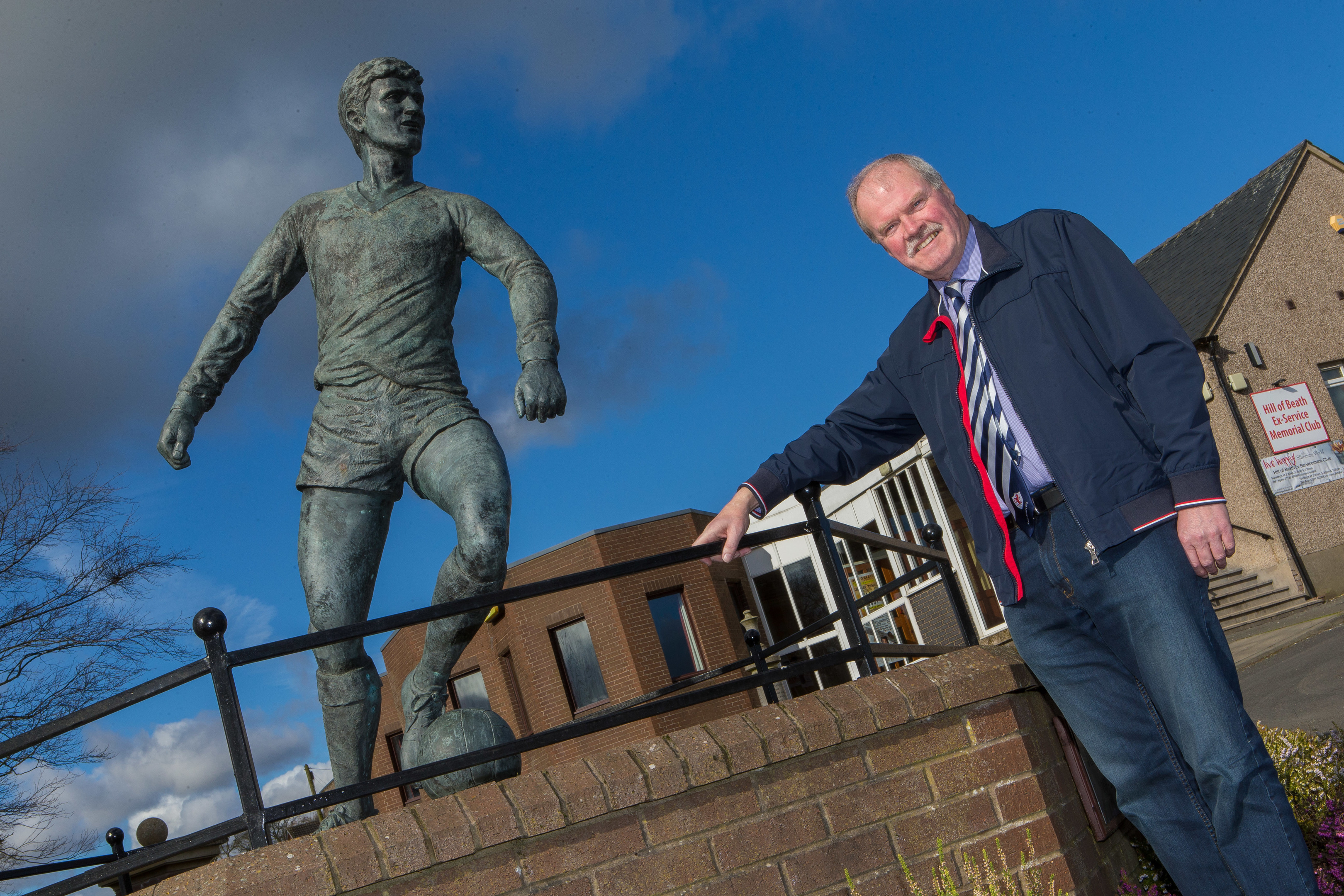 Fifty years on from arguably Scotland's greatest victory, the stunning performance of one of Fife's favourite sons will be marked at a special event.
Jim Baxter is already immortalised with a statue in Hill of Beath, where he lived and played football in his early years.
Raith Rovers, his first senior club, plan to celebrate half a century since his iconic showing at Wembley when Scotland became unofficial world champions at a star-studded evening in Kirkcaldy next month.
The show, which will take place on April 17 at the Adam Smith Theatre, will feature film footage of the famous 3-2 win over the England in 1967 and other memorable Baxter moments, as well as input from celebrities who had connections with 'Slim Jim'.
They will include Willie Henderson, one of Scotland's greatest wingers and a lifelong friend of Jim's; Jim McCalliog, who scored in the victory over England; ex-Scotland manager Craig Brown; former Prime Minister Gordon Brown; and crime writer Val McDermid, whose father initially brought Baxter to her beloved Raith Rovers.
Raith Rovers director Dave Wann hopes as many people as possible will turnout for the event, as it will also help develop local footballing talent hoping to follow in Baxter's footsteps.
"One of the purposes behind the event is to raise funds for the Raith Rovers player development squad so that the club can aspire to find and nurture the next generation of young players with some of Jim Baxter's skills," he explained.
"Our current national team has struggled in recent years and this event is an opportunity to remind ourselves of a time when Scotland had truly international quality players — a time when we could even brag about beating the world champions on their own turf."
Baxter's swagger during Scotland's win over England at Wembley on April 15, 1967, remains the stuff of legend, and those who were in attendance were left mesmerised by his performance over the 90 minutes.
His keepie-uppie with the ball on the touchline as the clock ticked down is one of the most iconic moments in Scottish sport.
Baxter, who played for Raith between 1957 and 1960 before moving to Rangers, died aged 61 in 2001 a and the statue was erected in his honour two years later.
Mr Wann said the evening promises "entertainment and nostalgia in equal quantities" and tickets are available via the Adam Smith Theatre box office by calling 01592 583302.
Standard tickets are £20 and VIP tickets are £30 which include a pre-show pie and a pint and the opportunity to meet the celebrities.