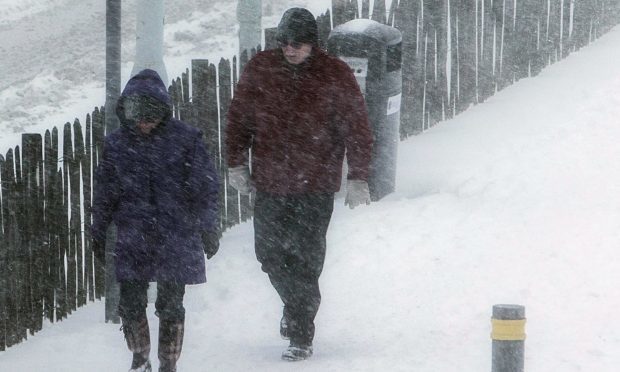 Supermarkets and stores across Tayside and Fife are struggling to stock basic essentials as a number of roads remain closed.
With heavy snow continuing to fall, vital deliveries of bread and milk have been hampered and some of the smaller communities have been left with nothing for two days.
Fresh meat has also been in short supply in some places.
Asda in Kirkcaldy was rationing bread to three loaves per customer on Friday morning as people desperately tried to stock up ahead of this weekend's forecast of further snow.
Dysart man Jonathan Watson said: "I trudged up the road to Asda this morning and it was like Christmas Eve in there with people grabbing loaves.
"There was no fresh milk at all."
A staff member at Sainsbury's in Kirkcaldy described chaotic scenes, adding: "One delivery of bread and milk all gone."
It was not all bad news however, as many community stores such as the Nisa Locals in Dysart and Leven received their deliveries and reported plenty of stock.
In Dundee, some Tesco and Sainsbury's stores apologised to customers for empty shelves. However, Sainsbury's claimed stocks in the city were under control.
A customer of Broughty Ferry's Sainsbury's said the store's shelves were "bereft" of milk and bread, but a spokesperson said: "Supply is good and essentials like bread and milk are still available — we've been closely monitoring the weather and adjusting stock levels accordingly."
A sign in Tesco Express in Broughty Ferry informed customers of the issues.
It said: "Due to circumstances beyond our control, we have no fresh deliveries today. Sorry for any inconvenience caused."
Greens of Dundee on Perth Road had to limit customers to a single loaf due to "erratic deliveries".
Lidl and Asda said staff were "working hard" to ensure shelves were stocked for customers while Tesco did not respond to a request for an update on local stock levels.
It's a similar picture in Angus.
Shoppers bought up the remaining supplies in many places which left milk supplies in Forfar all but dried up.
Staff at the family-run North Street Dairy have not only had to battle through snow-drifts to deliver milk, but have been left waiting for deliveries from its supplier's Glasgow depot.
Wednesday was particularly trying for the team as its tanker was among the hundreds of lorries trapped on the M80 near Cumbernauld.
Marlene Millar said: "The problems started on Tuesday night as the roads in Glasgow were terrible.
"The road was just gridlocked and the tanker was caught up in it.
"We didn't get a delivery until about 11am and then we had to bottle it up, which takes a good couple of hours.
"Asda had completely run out of milk so we were busy all day with customers, as well as making deliveries to our local newsagents and coffee shops.
"We don't have a delivery on Thursday but are still waiting on the tanker today.
"It has been hard going making the deliveries not so much because of the amount of snow but because of the drifting snow."
There were empty shelves in several areas of supermarkets in Angus as people rushed to stock up on supplies.
People were previously advised to stock up on medications and food amid fears road and rail networks could get cut off completely by the Siberian snow blast.
But things were slowly getting back to normal with deliveries getting through on Friday as weather warnings were lifted across the UK.
Arbroath East and Lunan Conservative councillor Derek Wann said: "The bread shelves were empty and the milk was down to just a few bottles but everything seems to be getting back to normal.
"I'm not sure if it was panic buying or the fact that deliveries were just not getting through."
Yellow and amber weather warnings for snow and ice remain in place across most of the county.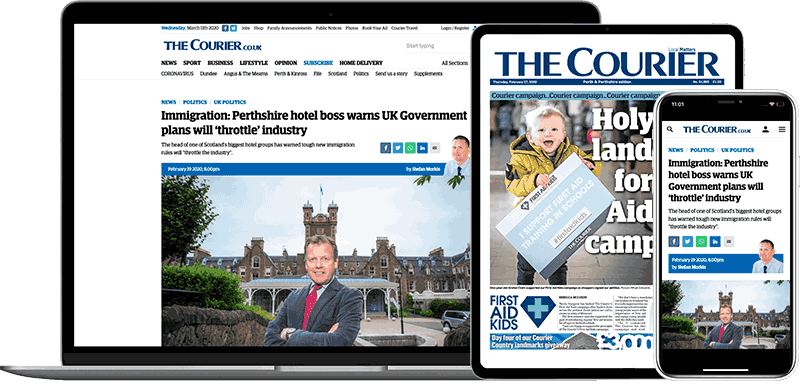 Help support quality local journalism … become a digital subscriber to The Courier
For as little as £5.99 a month you can access all of our content, including Premium articles.
Subscribe