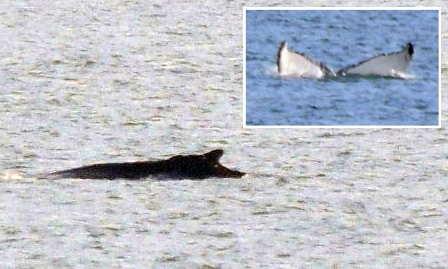 Humpback whales have been spotted again in the Firth of Forth, thrilling spotters who had been awaiting their return.
A large whale and a smaller one, believed to be a mother and calf, were spotted off the coast of Kinghorn on Wednesday.
It is not yet known whether the bigger of the mammals is the same humpback whale, nicknamed Sonny, which has visited the Forth to feed for two years running.
The pair were sighted just a couple of hundred yards from Pettycur Harbour and remained in the area for some time.
A small crowd gathered to watch the whales from near the Harbour View pub and more people are expected to congregate over the weekend as news of the creatures' arrival spreads.
Humpback whales grow to more than 40ft and their presence off the coast of Fife in the early months of 2017 and 2018 brought visitors in their droves hoping to catch a glimpse of the beasts.
Ronnie Mackie, a founder of the Forth Marine Mammals group and Kinghorn resident, watched the pair on Wednesday with Jenny McNeil, who had travelled from the other side of the firth to see them.
He said: "It's really exciting, we've been waiting for them coming back since November.
"Last week someone got a brief glimpse of them and yesterday [Tuesday], just before it turned dark they were spotted again.
"This morning we waited for hours and just after 1pm we got our first glimpse of them.
"They came in past Pettycur pier, a big one and a wee one, and they are going round in circles just now."
Three minke whales were also spotted in the same area on Tuesday.
It is hoped that photographers will be able to capture shots of the larger whale's fluke for comparison with images of Sonny, who was spotted in Icelandic waters after leaving the Forth last year.
Lyndsay McNeill, a member of Forth Marine Mammals, matched images of the whale in the Forth with photographs taken from a tourist vessel off the coast of Iceland.