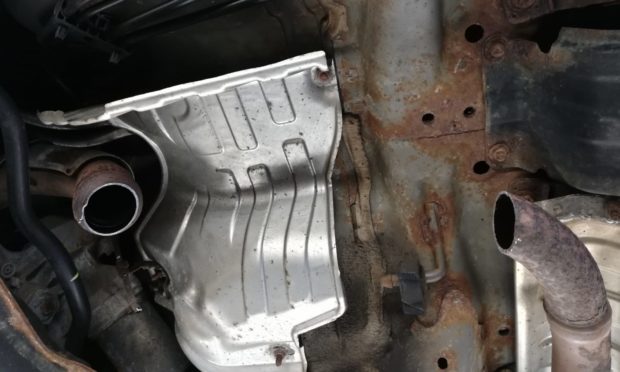 A health worker fears he could be left thousands of pounds out of pocket after thieves used an angle-grinder to steal catalytic converters from his cars during a spate of incidents across Tayside and Fife.
Will Pritchard, who lives in Milnathort, had the devices stolen from his and his wife's cars overnight on January 17 while they were parked in South Street car park, yards from their home.
The staff nurse, who works in Perth, has been quoted £1,400 to replace the part on his Honda Jazz and fears the same price will be given for his partner's car, also a Honda Jazz.
The bizarre thefts were part of a series of reports of stolen catalytic converters in the region.
Mr Pritchard said: "Someone is making a fortune stealing catalytic converters.
"The police say it only takes minutes and they go underneath the cars and cut the converters off with a grinder.
"It must have been through the night because when we got up in the morning that's when we noticed, when my partner went to drive.
"We were using a general car park round the back of our house but now we look at it it's dark and secluded.
"Only if someone was walking a dog late at night and that was when they past would they be able to hear it."
The health worker is concerned his car will be written-off if his insurance company deem the replacement part too expensive.
He said: "I am a staff nurse working in a coronary care high dependency unit in Perth working 12 hour shift. My partner also works in Perth.
"Having two children we are dependent on our cars. Then there is the worry that we have two young girls and who knows who is going about your house and there is also the thought if they do it once will they come back once repaired."
Mr Pritchard is urging people to park in well lit areas and close to kerbs since he has been told this makes it harder for thieves to gain access to the parts.
On the night the Pritchards' cars were targeted, thieves also stole a similar device from a vehicle on Clashburn Road in Kinross, two-miles away.
Some time between 6.30pm on January 22 and 6.30am on January 23, thieves stole a catalytic converter from a silver Toyota Hilux at the Cherrybank Inn on Glasgow Road in Perth.
Another converter was stolen from a vehicle in a garage on Low Road around the same time.
The Perth and Kinross-shire thefts follow a spate of similar incidents across Fife last month when catalytic converters worth more than £5000 were taken from parked vehicles in Kirkcaldy, Dunfermline and Inverkeithing.
Police Scotland are currently investigating all the incidents.