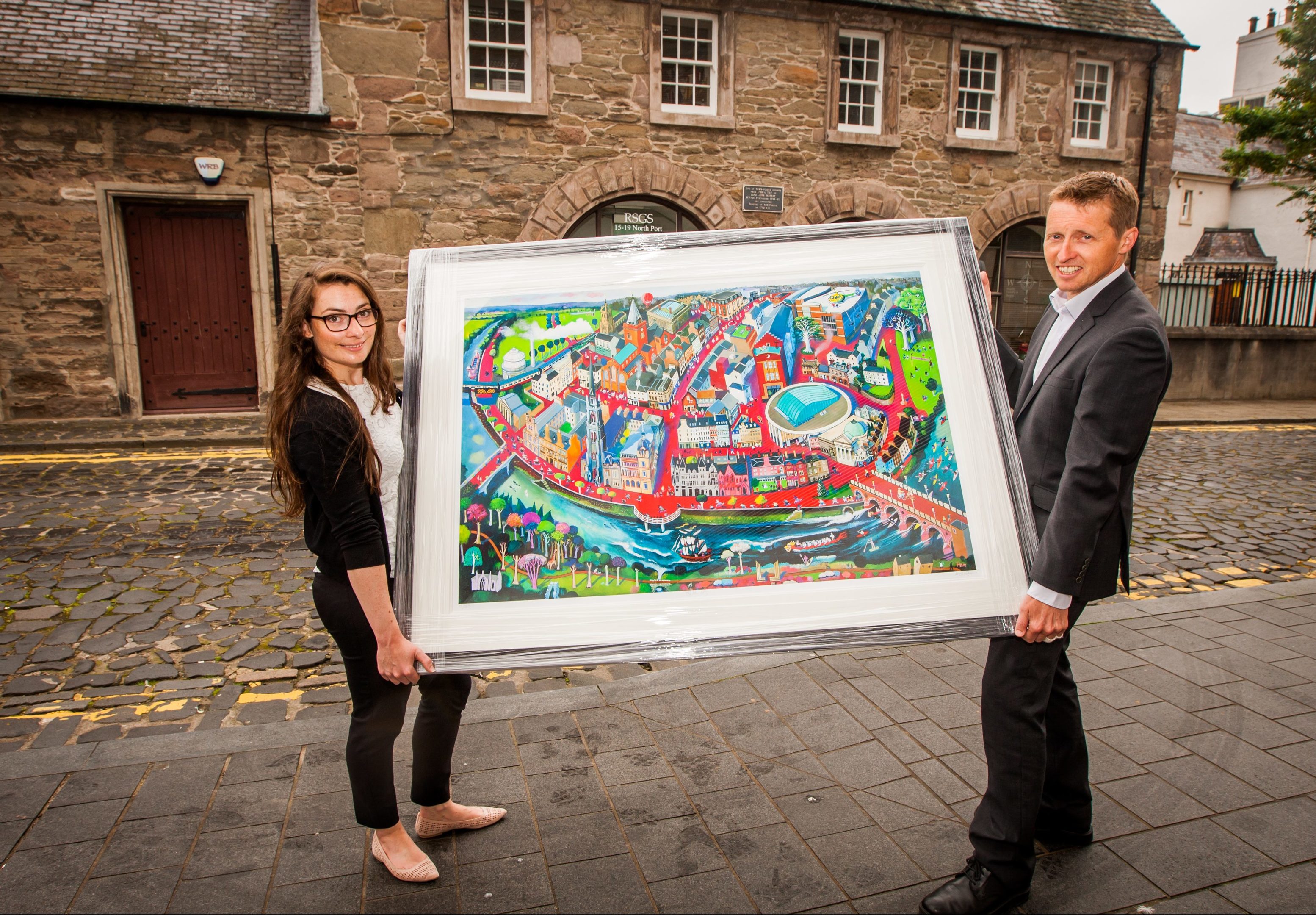 A 'bird's eye' view painting of Perth by an artist famed for his bright and quirky style  is being made available to buy with limited edition prints being sold and some of the proceeds going  to the Royal Scottish Geographical Society (RSGS).
The painting by Rob Hain, which captures the main landmarks of the city, was launched at RSGS HQ in Fair Maid's House, Perth on Wednesday evening.
Rob was inspired to create the painting after a meeting with RSGS chief executive Mike Robinson.
Rob at first thought Mr Robinson's suggestion was "a mountain too difficult to climb".
However, after he was invited on a tour of the RSGS HQ – the oldest residence in Perth – which concluded in the 'Explorer's Room', he was completely won over and set about the task.
"Three days were spent familiarising myself with the city, taking photographs and sketching a few notes, before I returned to the Wasps Studios in Selkirk to commence work on the canvas," explained Rob.
"Finding a suitable angle which included all the significant buildings in the city proved to be quite difficult, as I had previously feared.
"Then I realised that the Tay has a natural curve that embraces Perth. Everything seemed to slot into place after that," he added.
Details in the painting, which aims to captures the spirit of Perth, features a number of local details to look out for including the Kilt Run, The Tay Descent, Perth Dragon Boat Race, bees on the roof of the concert hall, an explorer outside the Fair Maid's House/RSGS HQ, wild swimmers in the Tay, the sculpture trail with Rob Hain's signature hidden giraffe, the Scottish Charity Air Ambulance, the ship Inn (artistic licence has moved its location to the other side of the vennel) and The Courier office!
Also featured is a Virgin hot air balloon, the Perth farmers' market, a golfer en route to the island, the "scooter granny", Paco's ice cream shop, owner of the Bean Scene on his bike, the minister at St Matthews with his kayak – and much more.
Large prints of the artwork are available from RSGS HQ priced £250 and the smaller print is £120. There is a limited print run on all of these on a first come first served basis with 75% of the proceeds going to RSGS and the rest to the artist.
The original, unveiled at Wednesday's private launch, is also for sale at £7,500. It has been put on display at Fair Maid's House along with other images by Rob from all over Scotland.
Mike Robinson, RSGS chief executive, said: "I absolutely love this painting. It represents a really dynamic, exciting and colourful vision of Perth by picking up on lots of real people and places.  I sincerely hope that people take it to their hearts and buy a copy."