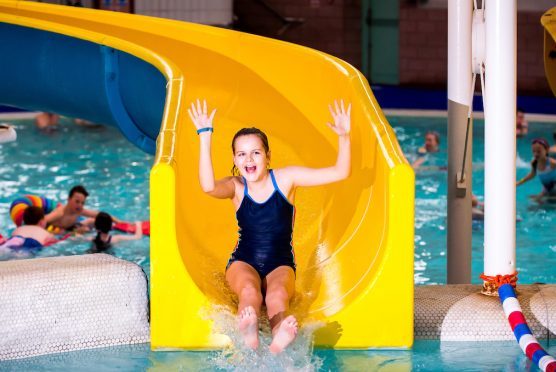 Perth Leisure Pool has re-opened after a £210,000 facelift.
The week-long refurbishment has resulted in updated flumes – now with added lights and music – as well as a swipe entry system and a makeover of the café.
The sauna cabin has been replaced and new flooring has been laid in the Monkey Jungle area.
Visitors will also notice new parking charges and entry/exit barrier controls – introduced in an effort to clamp down on city centre workers using the car park for free.
Centre users will have to pay 20p for up to two hours or 40p for up to four hours, rising to £6 for up to six hours and £10 for up to 12 hours.
Self-service cashless kiosks, designed to speed up booking, will also be put in place over the coming weeks.
The improvements follow a £40,000 gym upgrade earlier this year.
Centre bosses Live Active Leisure (LAL) said initial feedback had been "excellent" with the flumes in particular proving to be "a big hit."
The board of the ambitious £25 million PH20 project, which could bring new swimming pools and an upgraded ice rink to the pool/Dewars Centre site, has still to reveal their long-term plans.
However, Debbie Scott, operations manager at the pool, said it was important that the 29-year-old venue, which attracts 400,000 users a year, continued to play its part in the Perth economy in the meantime.
"When PLP opened in 1988, it became a flagship example of how sports and activity centres could crossover into the visitor attraction arena, playing their part in attracting day visitors to the area," she said.
"However, it is an expensive and demanding building to operate and while we continue to pursue our vision for PH2O, it became apparent that a number of maintenance works had become essential in order to ensure the continued safe and reliable operation of the venue.
"It is also hugely important to us that the venue remains attractive to customers and provides a great experience each and every time they visit. These recent works will ensure we continue to do exactly that."