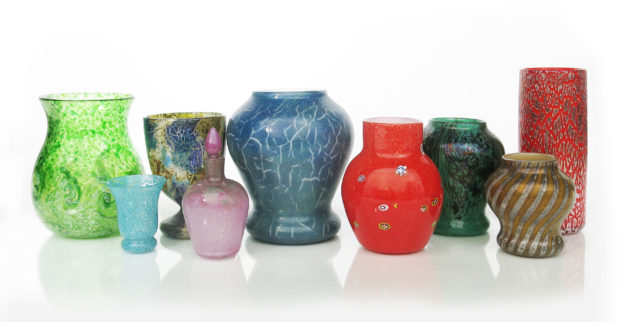 A collection of masterpieces from a renowned Perth glassworks which presented a wedding gift to the future Queen Elizabeth will go under the hammer at auction on Wednesday.
Estimated at around £14,000, the 21 piece collection of of Monart Glass will be auctioned at the prestigious Woolley & Wallis Salerooms in Salisbury.
Produced by the Moncrieff glassworks in Perth during the early to mid-20th century, Monart Glass became sought after around the world when, in 1947, a Monart piece was gifted by the city of Perth as part of the Princess Elizabeth wedding gift set and now sits on display at Balmoral Castle.
The 21 lots set for auction were collected over the past 20 years by Robert Morgan and includes 14 vases in an eclectic range of shapes and patterns, bowls, scent bottles and stoppers.
Also up for auction from the private collection are two characteristic mushroom-shaped glass lamps and shades valued at up to £1,500 and £1,800 each.
Michael Jeffery, associate director and head of design at Woolley & Wallis, said: "This small collection of Monart glass perfectly shows the level of skill reached by craftsmen working in Perth in the 1930s.
"It clearly displays the diversity of shape, from scent bottle to table lamp, and decoration which showcases the highly developed glassblowing techniques and the use of different materials and processes which give every individual piece its unique patterning and colouring.
"It is an excellent opportunity for the collector to invest in these masterpieces of British 20th Century glass."
Established in Perth by John Moncrieff Senior in 1865, the glassworks was primarily an industrial business until 1924.
In 1924 the art glassware was created by John Moncrieff Junior's wife, Isobel Moncrieff and Salvadore Ysart, a Spanish glassblower who had been hired by Moncrieff's in 1922 to make laboratory glass.
Monart, a combination of the Moncrieff and Ysart names, continued to be made at the glassworks on Perth's St Catherine's Road until soon after Isobel's death in 1961.
Monart was also a favourite of well-known British glass collector and solicitor Michael Parkington who successfully defended Nelson Mandela when he was put on trial by the South African Government for treason.