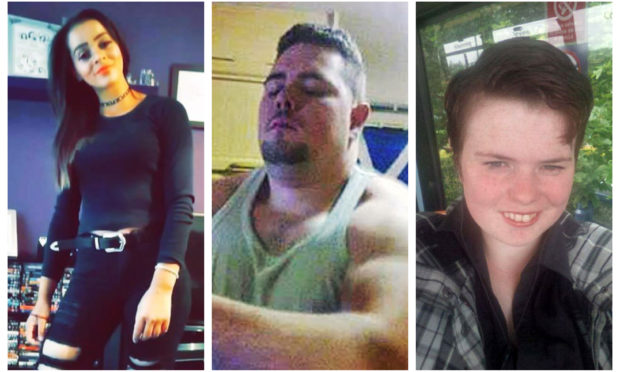 A Perthshire woman accused of killing Annalise Johnstone has been found not guilty of murder.
Angela Newlands, who is on trial alongside Annalise's brother Jordan, was cleared of her involvement in the 22-year-old's death at the Maggie Wall witch memorial, near Dunning, last summer.
Annalise's body was found lying face down in long grass, at the side of the B8062 Dunning to Auchterarder road at about noon on May 10.
Prosecutors allege she was knifed to death at the nearby monument several hours earlier.
Newlands, 28, and Johnstone, 25, went on trial at Livingston High Court last week, accused of murdering Annalise and dumping her body at the roadside.
On day seven, jurors were told Newlands had been acquitted of the murder charge following a legal submission by her QC Mark Stewart.
Judge Lady Scott told the jury she had taken the decision that there was "insufficient evidence" to allow them to make a ruling on the charge against her.
Newlands, who broke down in tears as she was acquitted, still faces allegations that, while acting with Johnstone, she attempted to defeat the ends of justice.
Johnstone continues to deny that he murdered his sister by repeatedly striking her on the neck with a knife, or similar weapon.
He is also accused of assaulting his other sister, Nadia Shabbana Johnstone, at Coatbridge on May 6.
At the end of Crown case on Wednesday, prosecutors dropped allegations that Johnstone stole a caravan from Irvine on May 9, and assaulted his sister Annalise in Beith the day before.
Earlier, businesswoman Angela Keiro told the court she heard Newlands' voice outside her home in Inchture, around the time Annalise was allegedly murdered at Dunning.
The 39-year-old said she was woken by her dog Milly in the early hours of May 10.
She told the High Court she looked out of the window of her property in Green Julian Place and saw a caravan parked in the driveway of her neighbours John and Cheryl, Newlands' parents.
She said she heard voices and saw people, but couldn't identify them.
Ms Keiro said she woke again at about 2am and the saw the caravan was still outside.
"I noticed there were lights on in the caravan and I could hear voices within," she said. "The only voice I could recognise was Angela's."
Questioned by Johnstone's QC Keith Stewart, Ms Keiro said she had originally told police she saw Newlands' father and husband at the caravan.
She told Mr Stewart she may have been mistake about the men she saw, but insisted she had heard Newlands' voice at about 2am.
The court also heard details of a police statement made by Newlands on May 24.
She told Detective Constable Rachel Webster she was not in a relationship with Johnstone, but he had agreed to be her driver after she was banned from the road.
She said they had slept in the same bed but had never had sex, because she thought Johnstone was gay, the court heard.
Jurors were told Newlands was once treated at Perth Royal Infirmary, after Johnstone attacked her by grabbing her wrist.
"Jordan used to hide things like my bank card and he took my phone," she said.
"He denied it, and started screaming at me in a high pitched voice."
She saw her phone in Johnstone's pocket and reached out to take it back when he grabbed her by the wrist, the statement said.
Under cross-examination by Newlands QC Mark Stewart, DC Webster said: "If they were partners, this would be domestic assault."
Asked by Mr Stewart if Johnstone's actions could create the atmosphere of a "controlling and abusive" relationship, DC Webster replied: "Yes".
In her statement, Newlands said she was staying at her mother's house in Inchture on May 10, and woke to find Johnstone asleep.
She said he had changed into her father's clothes and shaved off his beard.
"I have never seen his work trousers and work boots since that night," Newlands said.
She added: "I'm not being cheeky, but Jordan hardly ever showers and for him to have two showers that day was unusual."
The trial continues.
---
The charges
It is alleged that on May 6 2018, at Bank Street, Coatbride, Jordan Johnstone assaulted Nadia Shabbana Johnstone and threatened her with a knife, repeatedly attempted to strike her on the neck with a knife, push her and punch her on the head, to her injury.
It is alleged that on May 10 2018, Johnstone assaulted Annalise at the Maggie Wall's Memorial on the B8062 Auchterarder to Dunning road, repeatedly struck her on the neck with a knife or similar weapon, and murdered her.
Both Johnstone and Angela Newlands are further accused of attempting to defeat the ends of justice on May 10 and 11, by (a) transporting Annalise's body in a Ford Galaxy from the Maggie Wall memorial and leaving her behind a stone dyke at the side of the B8062; (b) cleaning the Ford Galaxy; (c) setting fire to material, the nature of which is meantime not known to the prosecutor, and (d) falsely reporting Annalise as a missing person.