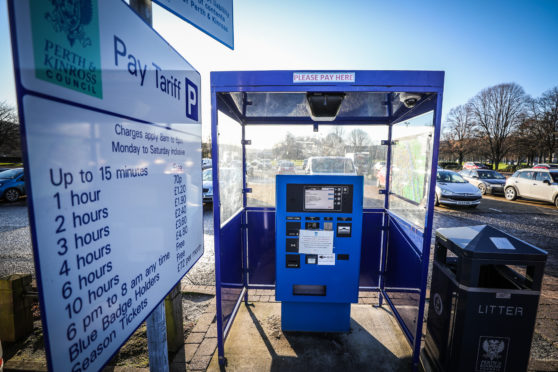 Perth commuters face further upheaval after a "Mexican stand-off" over payment problems at two major city car parks.
Both the Canal Street multi-storey and South Street sites have been unable to accept card payments since January 3, forcing many motorists to hike back into the city centre to find a cashpoint.
Perth and Kinross Council has now admitted problems will not be resolved for at least another week.
The Courier understands the local authority is about tear up its contract with the private firm that operates card payments at both sites.
Council bosses refused to comply with a demand from the company for passport photocopies and ID details of two senior members, saying it did not want to put the personal data of staff members at risk.
A source with knowledge of the situation said it led to a "Mexican stand-off" between the council and the business.
Talks have now collapsed, and the authority is negotiating a contract with a new supplier.
A local authority spokesman said: "Both South Inch and Canal Street car parks continue to operate on a cash only basis.
"We deeply regret the obvious inconvenience to our customers and our teams continue to work hard to remedy the connection issue. We are hopeful however that we will be able to resume accepting cashless payments within the next week to 10 days."
He added: "Advisory notices are displayed at both venues and are checked multiple times across the day."
Environment and infrastructure convener Angus Forbes said: "This is clearly an inconvenience for car park customers and I am glad the council are doing everything possible to get the situation resolved as quickly as possible.
"I will be keeping a close eye on progress."
Signs have been installed informing drivers they are entering "cash only" car parks.
Perth City Centre councillor Pete Barrett said the issue was causing disruption for motorists, particularly at Canal Street where the nearest ATM is some 400 metres away.
"I was told by the council that the card payment facility was to be restored within a matter of days," he said. "Almost two weeks have gone by and they are talking about another two weeks more. Frankly someone needs to get a stronger grip on this."