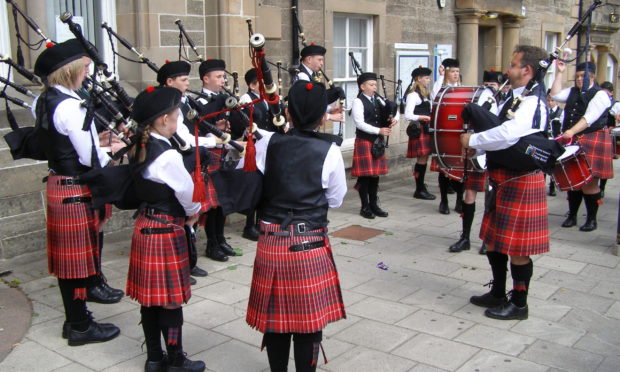 Hundreds of people from Auchterarder and the surrounding  villages are expected to join a school pipe band for a rousing rendition of Flower of Scotland to show community spirit.
The Community School of Auchterarder Pipe Band will be joined by fellow musicians and anyone else who wants to join at 6pm on Saturday, when they will play the Scottish national anthem from their doorways.
Lucy Armitage Gladwell, who thought up the idea, said around 300 people had already agreed to join in with the song and she was hoping more will get involved.
Pipers and musicians from Blackford, Aberuthven and Dunning have agreed to lend their voices and instruments to the event.
Lucy said: "I put a message up in Facebook, I wasn't expecting that anyone would respond but loads of people did and then a young lady who is a member of the pipe band got in touch with me and she said she was on board and would contact all the other members of the band.
"It's grown arms and legs. We would love as many people within the Auchterarder and district area a to join us from your door steps, windows and gardens to sing a long to the pipes.
"Each of the pipers will be playing from their own door step, garden or window in their own homes."
Lucy chose pipes as the main instrument as believes they will be heard across the area.
She said: "Let's fill the sky with the sounds of pipes. Let's raise the roofs to show our appreciation.
"This is to recognise all those people still working on the front line locally and nationally and to say thank you to each and everyone of you for helping to support the local community and the country."
The idea follows the Clap for Our Carers initiative which saw thousands of people show their appreciation for NHS workers by cheering and clapping form their homes a driveways at 8pm on Thursday.