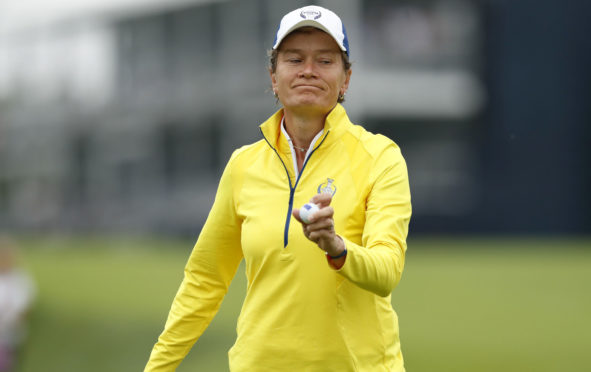 Catriona Matthew would be "amazed" if all the men's and women's golf major championships can be played this year in the light of the coronavirus pandemic.
The European Solheim Cup captain does believe every effort should be made to get the four men's and five women's championships played, but with postponements and cancellations following week-on-week thinks that might be wishful thinking.
"Gosh, it's a tricky one but probably yes, you'd want the majors played," she said. "But, then, do you want them played four weeks in a row, because that's what we're faced with.
"Obviously it depends where they're being played, as well, when it comes to if you can even play them later in the year. I think if you just get one or two majors in, maybe that's enough, but I don't know.
"There's locations and obviously just getting all the players together. The majors have huge fields, players from all over the world, so that's another issue.
"I'm glad I don't have to make all these decisions. Personally, I would be amazed if all the majors are played this year."
Matthew has hunkered down with her husband Graeme and two daughters in their home in North Berwick and having opted not to play the LPGA Tour this year there hasn't been a massive change to her plans.
But having agreed to skipper Europe in the Solheim Cup again next year in Ohio after the Gleneagles triumph last September, she has an avid interest in how this all works out, as what happens to the Ryder Cup could infringe on the Solheim.
"It's a tricky year and the focus is quite rightly on getting things right for everyone in the world," she said. "I think postponing the Ryder Cup is something that the tours will think about.
"After 9-11, the Ryder Cup was postponed and both it and the Solheim Cup were played in 2002, and then the Solheim was played again in 2003 as they switched to opposite years again.
"That was okay then, but the Solheim is a much bigger event now than it was in 2002.
"I don't make the decisions but it would not surprise me if the Ryder Cup was forced to move, they would look at moving the Solheim to 2022: that would certainly be something that would be talked about rather than having them both in 2021.
"I don't think as European captain I would have a problem with that. The qualification process would be easier for the players again as they would have this year as void, and start again from next year."
That qualification process could be what delays the Ryder Cup, thinks Matthew.
"Whether they play The Ryder Cup this year or next year, there is probably going to have to be some changes made to the qualification," she said.
"But everything is happening so quickly and I suppose Padraig (Harrington) and those organising have to look at different scenarios as see what happens with how the virus develops and go from there."
As for herself, she hasn't even been practising in the house, concerning herself more with domestic duties.
" I've not been playing any golf due to the courses closing here a week ago," she said. "I can't say I've been doing anything with my game in the house – yet! Maybe as the weeks progress I might start doing that.
"I've been doing some home schooling with the kids, trying help whenever I can with that, while I've also been doing some baking and gardening, just what everyone else is doing I suppose.
"We are quite fortunate where we live. We can go out and take the dog a walk, but, yes, it's tough times. I think it's the fact you don't know when it is going to finish that makes it harder. If you knew, I think it would be easier."
In the meantime, she watched back the final day at Gleneagles last week and the dramatic win on Suzann Pettersen's putt as Sky Sports have been filling their schedules with highlights.
"We all watched and were texting back and forward to different players, on the Whatsapp group," she said.
"It just seems so long ago now. I can't believe it was just a few months, it feels a lot longer. I found myself still being a little nervous watching back Suzann's final putt on the replay!"