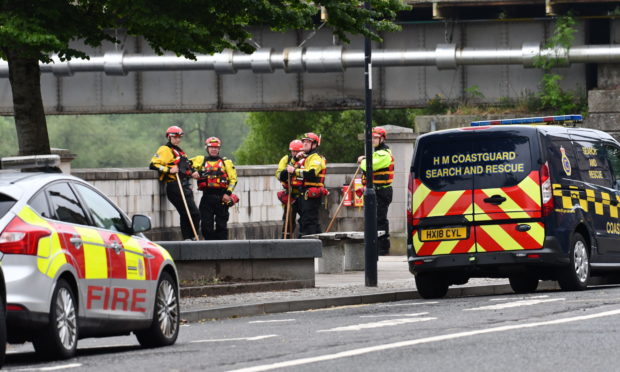 Rescuers called off a manhunt after four hours of searching the River Tay in Perth on Sunday morning, following a report of an elderly man in trouble.
An enormous emergency services presence rushed to Perth's Tay Street as the sun rose through the fog on Sunday morning.
Police, coastguard and SFRS crews rushed to the city centre riverbank after receiving reports of an elderly man in or near the water.
The man was reported to police as wearing a beige suit and carrying an orange bag when he was sighted near the river at around 6.30am.
Scottish Fire and Rescue service sent water rescue teams from Perth and their Kingsway station in Dundee, along with pump support.
Searchers checked the water all along Tay street in a red watercraft. Officers were also assisted by the search dog unit, which had travelled down from Aberdeenshire.
Dog handlers scoured Moncreiffe Island and both banks of the river as they searched for the man reported missing.
Local police officers, the Scottish Ambulance Service's incident response team and a command support unit also joined the rescuers.
Meanwhile, around ten coastguard vehicles, including specialist search and rescue crews, lined the cordoned off stretch of Tay Street between Perth Sheriff Court and the railway bridge.
The service, based further along the Tay, brought a trailer full of live-saving equipment which was parked up at the foot of the railway bridge.
One eyewitness said: "They were there more than a couple hours maybe. I heard the sirens at about 7.30am as they made their way down.
"There were ambulance units, coastguard vehicles, and one of the boat in the water."
"The boat had been all the way up to the railway bridge."
Another added: "There was a lot of people at the river, I thought it was a training exercise."
However, the tools weren't needed as the search was concluded at around 10.15am.
This is the latest in a string of recent searches which have been called off.
In a search of the same stretch between Christmas and New Year, officers called off their search after assessing that reported cries for help had been misheard.
And earlier this year, a major search in the North Muirton area was later thought to have been sparked by "a very large otter."
A police spokesperson said: "An extensive search of the River Tay has been carried out with the aid of HM Coastguard following a report of a man seen in the water near Tay Street in Perth around 6.30am on Sunday, 14 June.
"The search has now been stood down with nothing of significance found. Nobody matching the man's description has been reported as missing to Police Scotland.
"Enquiries to establish the full circumstances remain ongoing and anyone with information can contact Police Scotland on 101."