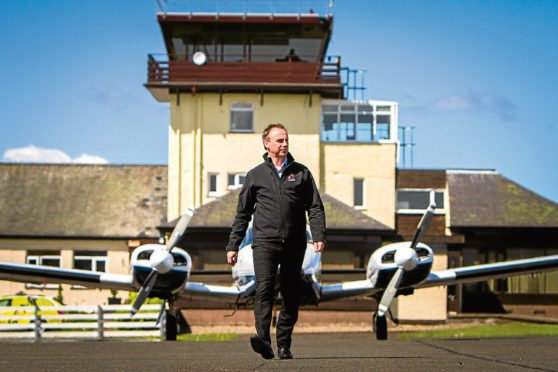 Police are hunting a drone pilot who nearly took down a light aircraft over Perth Airport.
The drone flew into restricted airspace and came dangerously close to a small plane coming in to land.
The two people onboard were at risk of "serious injury" said investigators.
The drone operator's actions had been described as "irresponsible in the extreme."
The mid-air drama has sparked fresh calls for tougher punishments for reckless drone-flying near airfields.
Police Scotland said the plane was flying above the Murrayshall area, just after 2.30pm on Tuesday, when the "near-miss" happened.
The rogue device is described as about one to two feet in width, and red or orange in colour.
Perth-based PC Scott Thomson said the aircraft touched down safely at the Scone airport – also home to Scotland's Charity Air Ambulance – shortly afterwards.
"Thankfully the aircraft was able to avoid a collision on this occasion, otherwise both people on board would have been in danger of serious injury," he said.
"We support the safe and legal use of small unmanned aircraft. However, drone pilots are reminded they must operate within the law and guidelines set out by the Civil Aviation Authority and National Air Traffic Services."
He said: "It is the responsibility of each pilot to make themselves aware of the appropriate legislation and be aware of the importance of responsible flying, particularly around airports, restricted airspace and congested areas."
Perth Airport operator Graeme Frater, managing director of ACS Aviation, praised the response of the aircraft's pilot for "undoubtedly averting a potentially very serious incident."
He said: "We support the views of the UK government, the Civil Aviation Authority and police that penalties should be increased for flagrant misuse of drones near airports, where they represent a very major hazard.
"We encourage anyone with information to contact the police."
Mid-Scotland and Fife MSP Alexander Stewart said it was a reminder to drone operators to ensure they were "patently aware of the grave consequences of irresponsible flying, especially around controlled airspace, and should expect to bear the full weight of the law should any irresponsible behaviour continue."
The Conservative said: "The piloting of drones so close to an airport of any kind, especially a small airfield such as Perth airport is irresponsible in the extreme.
"This puts all aviation at risk, however with a light aircraft, a collision with a UAV of such size could have potentially catastrophic results."
He added: "This clearly terrified the occupants and I am delighted that no harm came to them or their aircraft."
A Civil Aviation Authority spokesman added: "It is illegal to fly drones within an aerodrome's restricted airspace without permission and anyone flouting the rules can face severe penalties including imprisonment.
"Anyone operating a drone must do so responsibly and observe all relevant rules and regulations. The rules for flying drones are designed to keep all airspace users safe."
He said advice on safe drone flying was available at www.dronesafe.uk. The website also has a map that shows all the aerodrome restrictions.
Any witnesses are urged to call Police Scotland on 101, quoting case number 1878 of June 30.