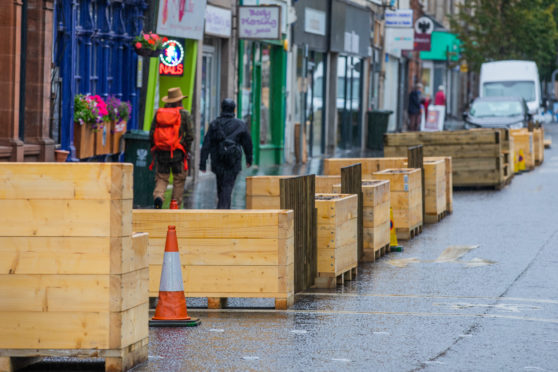 Perthshire Conservative politicians have urged the council to reconsider new infrastructure on Perth High Street.
There has been a backlash from businesses in the area in response to the wooden furniture put into place as part of pandemic safety measures.
This prompted business owners to join forces in opposing the infrastructure that was introduced alongside new traffic measures.
The Tory-led council said it plans to hold meetings with relevant parties "in the near future" to address concerns.
The recent High Street changes came after Perth and Kinross was awarded more than £1 million of funding from sustainable travel charity, SUSTRANS for pathways and roads across the area.
Councillor Chris Ahern, of the Perth City Centre ward initially welcomed the move when it came into force last month.
At the time, he said: "It's really great to see so many people making use of the additional space. I have worked closely with local businesses and council officers to make this happen in a way that everyone can buy into."
The representative now says the plan was ill-conceived, urging his own party's administration to reconsider the plans.
He said: "Something definitely needs to be done here.
"This plan has not been well thought out and many drivers are ignoring the pedestrianisation.
"I am very sympathetic in terms of what the shopkeepers have said about the situation."
Murdo Fraser MSP, who represents the Mid Scotland and Fife region, added: "I have been contacted by both traders and property owners in the High Street who are really concerned about the changes that the Council have pushed through.
"There seems to be little justification for the pedestrianisation, and the kindest thing to say about the 'tattie box' installations is that they are unsightly in an urban setting."
SNP councillor for the Perth City Centre ward, Eric Drysdale has also called on the Tory administration to take responsibility for the infrastructure.
He said: "I  will be working urgently with council officers, local businesses and other stakeholders to resolve this quickly.
"Although some excellent work has been done by officers in other areas, this project has become unhelpful to traders and moreover, simply isn't having the desired effect.
"Following intervention from (council chief executive) Karen Reid, we will work with businesses to resolve this."
A Perth and Kinross Council spokesperson added: "Council officers are aware of concerns expressed over the changes in Perth High Street, and have already met with local businesses in this regard.
"A wider meeting will be held in the near future with city centre business operators, Perthshire Chamber of Commerce and local elected members to seek a suitable solution to these concerns."