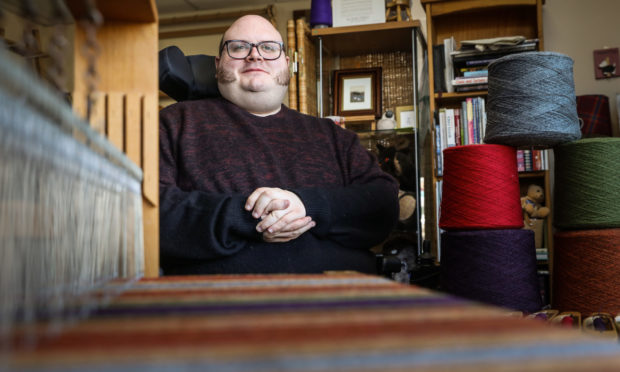 A weaver from Blairgowrie has received a top university honour for his community art project, which stitched together the history of the Perthshire town and its famous son Hamish Henderson.
Ashleigh Slater, 39, was named postgraduate student of the year at the University of the Highlands and Islands for his work on the Gathering Threads heritage project which was unveiled at the festival celebrating Henderson last year.
Giant portrait of Blairgowrie poet Hamish Henderson commemorates 100 years since his birth
The master weaver completed his MA course entirely online and was commended for setting up a network group to support fellow creatives during lockdown.
As part of the ambitious project he hosted a number of workshops, organised an exhibition of artwork created from stitching, photography and poetry crafted by local residents.
The artists then weaved them together on a canvas before producing an interactive digital version of the work.
Ashleigh said: "It was a way of collecting the community's stories in textiles.
"It was our way of collecting them, not like Hamish Henderson did but visually."
The tapestry includes a birds eye view of Blairgowrie, the town's history of the berry fields and detailed drawings of the architecture and sights.
As a master weaver at Tartan Caledonia, Ashleigh also designed a commemorative tartan to mark the centenary of Hamish Henderson's birth.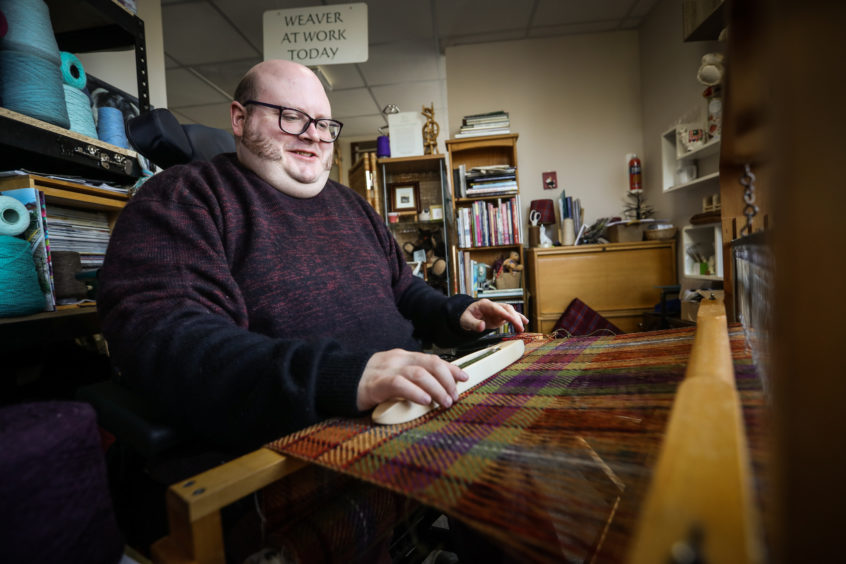 Wheelchair user Ashleigh, who completed his MA remotely from Shetland College UHI, said he hopes his award will help universities open doors to people with disabilities.
He said: "I have had an amazing experience. It has been life changing and impacted me in more ways that I had imagined possible.
"I finish my course not only with a new experience but with a new positive mentality.
"It has also brought my views on education into a new light and I hope other colleges and universities can learn from these methodologies, and allow more disabled people options to access education, and postgraduate degrees without barriers."
Roxane Permar, programme leader for the MA art and social practice, added: "Ashleigh is liked by everyone he meets and he displayed enormous compassion and empathy for those he works with.
"As a wheelchair user, he leads by example, inspiring others to overcoming obstacles and barriers, encouraging others to find their own unique learner journey."
The Gathering Threads project is currently on display at Blairgowrie Community Campus.