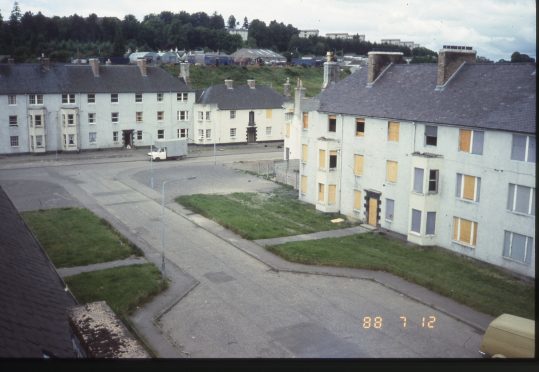 To many residents of 1960s Perth, a home in the city's Hunter Crescent represented an aspirational step up the property ladder.
Designed as Neo-Georgian tenements, it housed its first residents in 1936 and for a time it was seen as  a model community.
Its decline came swiftly and brutally as, by 1981, it had become notorious, gaining the unwanted distinction of becoming known as "the most deprived area in Scotland".
By 1986 unemployment on the estate reached 80 per cent and educational achievement, health, life expectancy and drug abuse all stood at the wrong end of the spectrum.
With crime rife, many homes standing empty and decaying and refuse littering the streets it had gone from model community to a lesson in neglect.
The regeneration of Hunter Crescent began in the later 1980s and today the renovated, repopulated and rechristened Fairfield is an excellent illustration of sustainability and community action.
Author Anthony Camilleri spent the first 16 years of his life in "Hunters" and to ensure its lurid, sometime tragic and often comic history is not forgotten, he has written a memoir of growing up there in the 1970s and 1980s, entitled "Hunters: Wee Stories from the Crescent".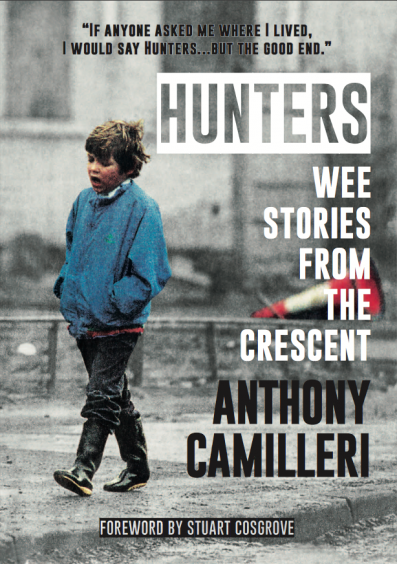 Camilleri describes his memoir as a humorous and affectionate look back at Hunters between 1967 and 1984, but adds: "It pulls no punches: these were grim times".
He recalls: "My mum and dad (Rachel and Fred) moved into 11D Hunter Crescent in April 1967.
"After a period renting a one-bedroom at in Shore Road for £1.10s, they were delighted to move up in the world to what was then a desirable part of Perth to live … even if the rent was a steep £2 per week.
"The following year I was delivered by the stork. It was 1968 and it was still safe for storks to fly over Hunters' airspace.
"Three years later my brother John was brought home by my mum in an ambulance – storks refused to land by the start of the 1970s."
Broadcaster and writer Stuart Cosgrove, raised on the "rival" Letham housing scheme, wrote the foreword to Hunters: Wee Stories from the Crescent.
He contributes a story he was told about Hunters by his uncle Billy, a fireman.
"In the 1980s, housewives and single mothers had come to realise that they would be re-housed in Letham and get a better council house if their own home was deemed uninhabitable.
"Some had taken it into their own hands and set fire to their own homes, rushing them and their children to the top of the housing list.
"One day the alarms went off in the fire station near Feus Road and my uncle held the emergency response team to the site of the fire.
"When they got there a woman and her two children were sitting on top of all their worldly objects: the carpet had been rolled up neatly, the kitchen utensils were boxed away and the family's television set and stereo unit were neatly stacked together.
"When the fire engine arrived, urgently unravelling hose-pipes and fire blankets, the woman said: "It was a close thing. We just got oot in time"."
Camilleri's book will also reminisce about many of the characters who made up and visited the community.
They include the ragman, who became "a vital component in the Hunters economy".
"You gave him old clothes and in return you got a gobstopper, a bouncy ball, a balloon, or a goldfish – only problem was some kids took their dad's Sunday suit (I say Sunday suit, it was more than likely their suit for wearing when they had to go to court) or their mum's wedding dress," writes Camilleri.
"It was also common practice for people to have their washing stolen (known as 'snow dropping') and sold to the ragman."
The book will be launched at the Fairfield Neighbourhood Centre later this month and will be available from Tippermuir Books.