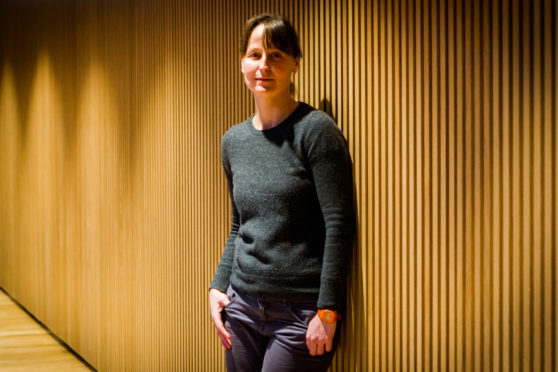 Perth's newly-renovated theatre has put the city on the UK performance map justifying its £16.6m price tag, according to artistic director Lu Kemp.
Speaking before the launch of the theatre's Spring programme – and approaching a year since the building reopened – she said ticket sales were either in line with expectations "or slightly exceeding them". Last year's pantomime, for example, sold better than in any previous year.
She said: "The theatre has been central to the cultural life of the city for more than 100 years and the redeveloped venue will continue to be a major asset to the city as it expands and develops as a tourism and business destination.
"I don't know whether – yet – we're on the world theatre map, though we are pushing it. But it has certainly changed the profile of Perth Theatre in Scotland and across the UK.
"It feels easy to call people and say we are Perth Theatre and we are interested in having a conversation, whether that's from Birmingham to Northampton, from Cumbria to Manchester, we're growing connections all the time."
The new programme makes full of use of the restored theatre with shows in the auditorium, the more contemporary Joan Knight Studio and the number of performances for the now annual touring production.
She said the public mood plays a big role in choosing work. This year's thriller – Gaslighting – first coined the term that is now used to describe a kind of mental abuse, tying into themes currently being highlighted in society by the #metoo movement.
"Some of it is a catalogue inside my head, plays from having worked over the years that might now have more of contemporary resonance. There is a right moment to do certain pieces of work. So it's a little bit about that. About trying to work out what the conversation is at the moment."
She added: "We have programmed the season to ensure we have something for everyone – of all tastes and ages.
"We have listened to feedback from our audiences to bring them more of what they have asked for and more of what they enjoyed from last season, great stories told with live music."
She said some of that feedback had been particularly emotional for her. One of the farmers interviewed for last year's agriculture-themed touring production – A Six Inch Layer of Topsoil and The Fact It Rains – had got in touch to tell her what he thought of it.
"He wrote his hand was shaking and we'd got everything right. You've made an old farmer cry. And that made me cry. It was amazing.
"You've got to celebrate when you get it right. You won't always get everything right for everyone, but you keep trying and that's the thing."
A programme for all…
A Scottish fishing tragedy, a Victorian-set thriller and a dark comedy inspired by Mary Queen of Scots are some of the highlights of Perth Theatre's spring season, which launches on Tuesday.
Other eye-catching performances include a play based on the famous memoir Touching the Void, a story of passion across the class divide and a dance piece focused on the strains of life in the army.
Lost at Sea, directed by Ian Brown, runs from April 27 to May 4. The story of a north-east fishing family and a young woman returning home to search for answers about her father's death. The show features the voices of fishermen and their families in their own words, mixing music, songs and the Scots language.
Thriller Gaslight, set in 1880 and first performed in 1938, opens on March 23 and closes on April 6. The murder-mystery focusses on Bella Manningham, who thinks she may be going mad after her personal possessions disappear and appear in strange places. The play, which was the longest running non-musical on Broadway, links her to a violent murder and robbery 20 years before.
One-woman black comedy Marie will be in the theatre's Joan Knight Studio on March 29 and 30 before touring rural venues across the area. The darkly comic new play is inspired by the life of Mary Queen of Scots and has a distinctly modern twist.
Play Miss Julie will also open in the Joan Knight Studio February 16. The story looks at the relationship between a laird's daughter and a servant as the General Strike in the 1920s threatens to remake class relationships across the country.
Based on Joe Simpson's best-selling memoir, turned BAFTA-winning film, Touching the Void is on from March 6 to 10. The play charts Joe's mental battle as he teeters on the brink of death and despair in a crevasse from which he cannot possibly climb to safety.
Put together in association with the British Army, Rosie Kay Dance Company's 5 SOLDIERS: The Body is the Front Line comes to Perth on February 5. It is a portrait of army life told through dance.