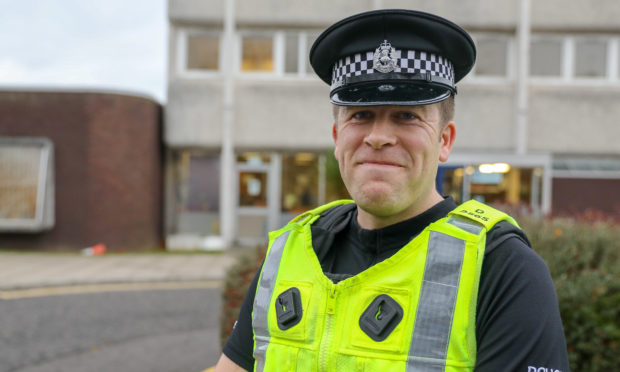 A Perthshire police officer has been awarded for fending off a frenzied attacker who stabbed three people in a local town.
PC Adam Denny from Perth station, received the Police Scotland bravery prize at an awards lunch in Tulliallan, for his role in detaining an Auchterarder man following the bloody attack.
Stephen Bertie plunged a blade into the chest of 32-year-old James Irvine during a fracas in August last year.
The 30-year-old then went on to attack Mr Irvine's sister Marion and their friend Stewart Henderson, while two children were in the property at the time.
The row erupted when Bertie was accused of stealing a mobile phone after entering the flat, claiming to be a friend of Mr Irvine's.
After the attack Bertie left the property to go home, drop the knife and change his clothes, before returning to try and force his way back inside.
Mr Denny was first to the scene at Sydney Crescent, where he found the three victims covered in blood.
He was then left to control the aggressive attacker who was trying to re-enter the flat, before he was restrained and sent to Perth with police.
The act of heroism has seen Mr Denny rewarded by Deputy Chief Constable Iain Livingstone at the Police Scotland Bravery and Meritorious service awards.
The officer has been stationed in Perth and Auchterarder offices for the last four years, after nine years with the police force in Kent and the award is another to add to his collection.
He said: "This kind of scenario is something you expect but it doesn't happen often.
"Auchterarder is usually a quiet place. He (Bertie) was very aggressive straight away and he was claiming to be their cousin to get back inside.
"He was physically and verbally aggressive as he tried to push me out the way and was shouting all sorts of explicit language.
"At that point your training kicks in to try and defuse the situation and keep a safe distance.
"We have no idea what his intentions were.
He added: "It's actually not my first award. I was lucky to get a chief constable and a home office honour during my time in Kent with work involving drug enforcement, intervention and treatment.
"You just see this as part of your job, although it's nice to be recognised."
Bertie has since been handed an extended nine-year sentence after admitting attempted murder at the High Court in Glasgow in January, meaning he will serve at least six years in jail and will be placed under supervision for a further three years when he is released.