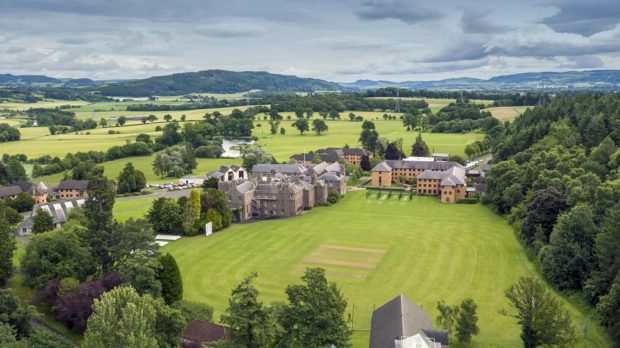 A leading private school has been backed by a sheriff over claims by a former pupil she was bullied to the brink of suicide.
The teenager's bid to claim £50,000 damages over physical and cyber bullying at Strathallan School has been rejected by Sheriff Gillian Wade.
In a strongly-worded written judgement, the sheriff accused the teenager's legal team of making unsubstantiated claims which could damage the school's reputation.
Sheriff Wade said: "By way of observation, I would point out that this was an anxious matter in which serious allegations were levelled against educational professionals and a well-respected independent school which relies on its reputation to attract pupils.
"The integrity of the staff and those running the school was called into question, by what transpired to be allegations unfounded in law and made without any expert evidential basis.
"It is the professional duty of pleaders bringing such actions that before placing allegations of professional misconduct on record, they have such an evidential basis and that the evidence could be supported by expert testimony if required at proof.
"A failure to do this is, at best, irresponsible.
"Furthermore, despite allegations of serious psychiatric and psychological harm suffered by the pursuer, there was no medical diagnosis to support that position.
"It is not simply a case of guessing what one hopes the evidence might turn out to be and placing a narrative on record which later cannot be substantiated – but may well cause distress and upset to those who are the subject of the unfounded and unwarranted criticism."
The former pupil claimed Strathallan School, near Perth, failed to adequately protect her from physical and cyber bullying while she was boarding several years ago.
The 18-year-old said the bullying became so bad it led to her repeatedly self-harming and eventually making a failed suicide bid.
She alleges a lack of action by the school management caused her "anxiety and depression" and her parents removed her from the school over fears for her safety.
The school accepts the girl was the subject of bullying by her peers but denied a lack of care and defended the action.
Its defence alleged the girl's mental health deteriorated due to a change in family circumstances and because the girl felt unduly pressured by her father to achieve good grades.
The girl's parents have already lost a court bid to withhold more than £40,000 in fees from the school because of the way she was treated.