The admission by Tiger Woods that his golf career may be over didn't come as a great shock.
The writing has been on the wall for a while.
Mind you, it wouldn't come as a great shock either if somewhere down the line he wanted to give it one more go.
Either way, what we can be 100% sure about is that he's never going to get up to the Majors record of Jack Nicklaus.
There was a time when it looked likely and I'm sure a lot of people will lose money on Woods not getting the four more he needed to match Nicklaus or the five to beat him.
Even though Tiger has got a record that has blown virtually every other golfer out of the water and he is thought by many to have been a better player on his day than Nicklaus, his glass probably won't be half-full when he reflects on his achievements.
In sport you set career goals and if you don't meet them, you're disappointed.
The difference between most of us and Woods is that he set his sights on being the best ever and the fact that he hasn't got there will be hard for him to accept.
* Whatever you think of all the Woods off the course stories, nobody can doubt that he has changed his sport.
Another legacy may be the way golfers treat their bodies.
Woods's has broken down and his fellow players will take note.
I think you'll see more and more players doing what Rory McIlroy is about to, and put the clubs away for a couple of months to rest up.
Just like in tennis, staying fit and healthy for as long as possible is as big a part in staying at the top as skill and dedication.
* It might not make the back pages but I was chuffed to be part of the Pitlochry ladies team which has won the Perth and Kinross Scratch League, which doesn't happen very often.
I managed to play in three of the five matches.
A big mention is due to Kay Knight and Kathleen Duncan for their organisation behind the scenes
* It was a pleasure to present the coach of the year award at the Team Scotland Scottish Sports Awards last weekend.
Andy Young, Laura Muir's coach, got it.
Given the season Laura has just enjoyed, it was certainly well deserved.
* I'm going to be doing a bit of coaching at the Intu Braehead Curling Rink on Saturday.
The Braehead Curling Sweep sessions last 90 minutes and are open to anybody from beginners to club players. All you need are a clean pair of trainers and a warm jumper. You can book online.
Hopefully there will be plenty of people there because these are the sort of events which widen the interest in curling from the traditional base of the sport.
Before that I've got a night I've been looking forward to at the Fairmont, St Andrews.
The Masterchef: The Professionals champion Gary MacLean is giving us a masterclass for the Beatson Cancer Charity.
It's a great cause and I'll be looking for some tips to put to good use the next time we're renting a flat in Perth during the Scottish Championships!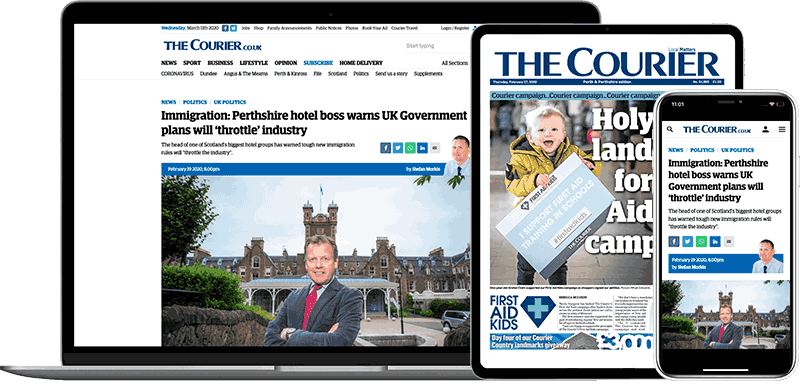 Help support quality local journalism … become a digital subscriber to The Courier
For as little as £5.99 a month you can access all of our content, including Premium articles.
Subscribe