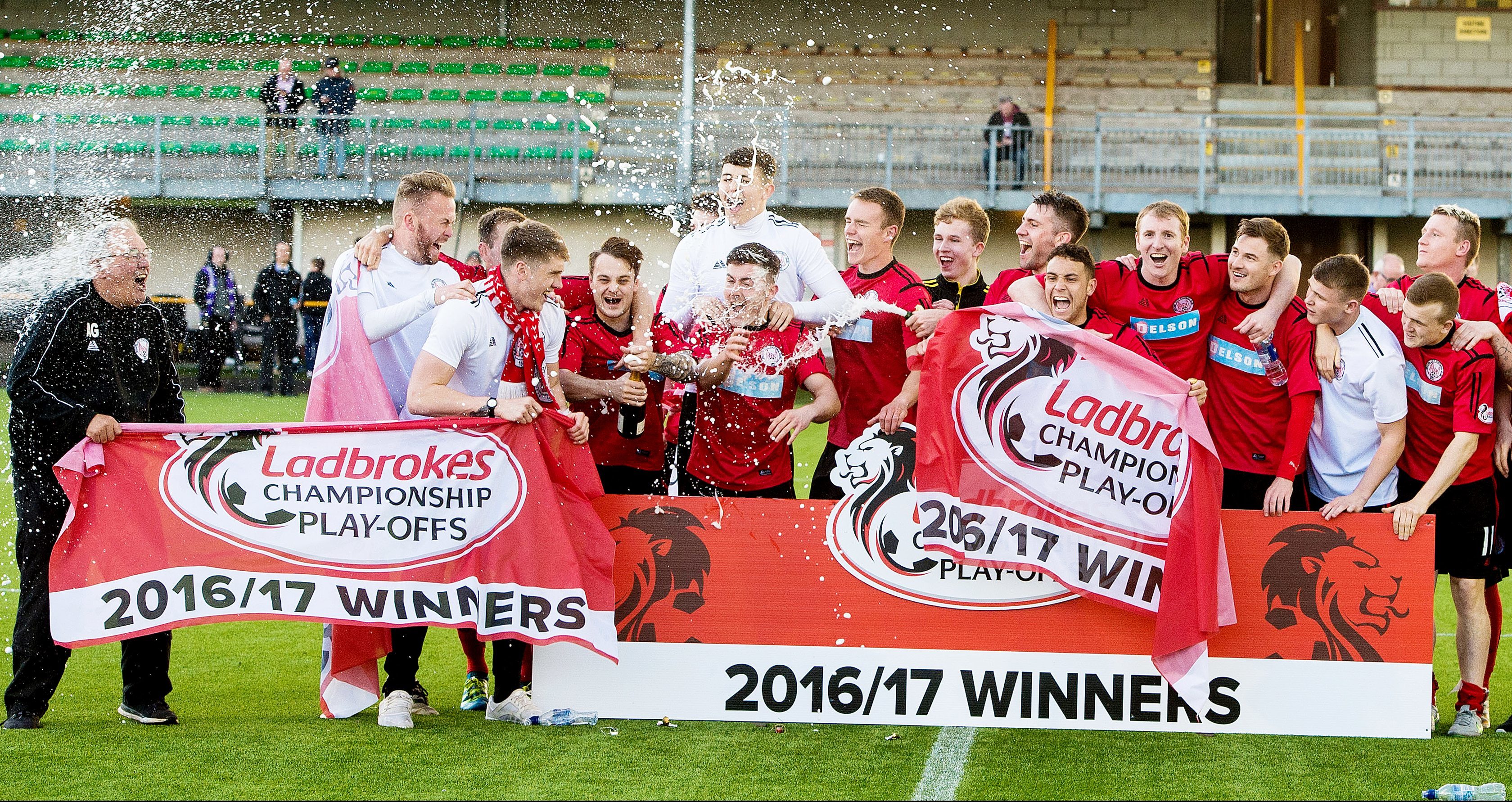 Brechin chairman Ken Ferguson admits he is still trying to come to terms with the fact his club will be playing in the Championship next season.
Darren Dods' side sealed promotion with a nerve-shredding win on penalties at Alloa on Saturday.
Ferguson admitted that going up was something which had barely been mentioned by the Brechin board prior to the second leg of the game against the Wasps.
Now though, preparations for life in the higher division have begun in earnest.
The chairman said: "I thought come Sunday morning it would have hit me that we were a Championship club but to be honest, it hadn't.
"It is a huge achievement for Brechin but there are plans and decisions that have to be made and we will start doing that.
"Prior to Saturday, we hadn't discussed promotion in any detail.
"I spoke to Darren afterwards and he is already working at keeping the nucleus of the squad together for next season and identifying possible additions.
"The lads have done magnificently to get us into the Championship."
Ferguson issued an appeal to the club fans last week asking them to come along to support the team.
He also insisted in his video address that he wanted to "dispel the myth" once and for all that Brechin did not want to go up.
Ferguson added: "That was something that has always been there after we failed in play-offs before.
"It was something that went round the town constantly that we did not want to go up.
"However, as anyone knows, in football players try their hardest and if we were to be promoted then it would be up to the administrators to deal with it and we will."
Of course, winning promotion has lifted Dods' profile as a boss much higher and he is certain to have popped up on other clubs' radar.
That is just a fact of footballing life for Ferguson who has seen a whole host of managers move on from Brechin over the years.
However, he is hopeful that Dods will be at the Glebe for the foreseeable future.
The chairman said: "We have always had great pride in managers who have started at Brechin and gone on to be successful elsewhere.
"Dick Campbell, Jim Duffy, Jim Weir and Ray McKinnon are all doing well as of course is Michael O'Neill with Northern Ireland.
"So Darren is the latest in a line of good managers. He is a super guy and he receives a lot of support from Lee Bailey and Stevie Campbell who bring their own attributes to the table.
"They are a great team and while Darren will have caught the eye after winning promotion, we hope to have him at the Glebe for some time yet."