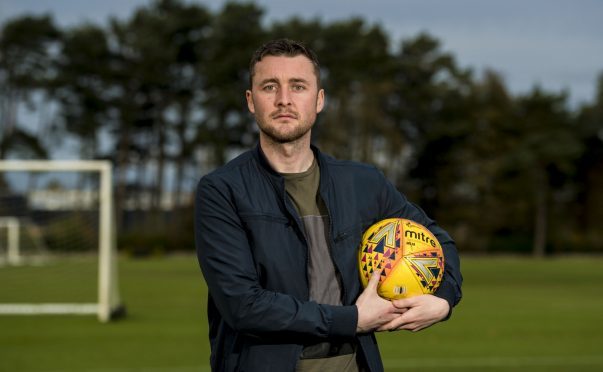 Tam Scobbie believes Dundee United's embarrassing Irn-Bru Cup exit won't be factor when they face Falkirk.
The Tangerines' shadow side crashed out of that competition last Saturday at the hands of Northern Irish team Crusaders, making it a dismal start for new boss Csaba Laszlo.
Laszlo has since resisted the temptation to play down the tournament's importance and insisted it was the cup-tie and not the Championship match against the Bairns at Tannadice tomorrow that marked the real start of his tenure at Tannadice.
However, Scobbie, who like the rest of the United's first-choice 11 didn't feature last Saturday, is not so sure.
Indeed, he stressed that, as probably 99% of supporters believe, the league is the only show in town.
The former St Johnstone defender said: "Last weekend's game isn't a factor at all.
"You just have to look at the team we played against them.
"The gaffer decided to have a look at a few of the players who hadn't been playing and gave some of the younger ones a chance to show what they can do.
"Judging us on the St Mirren and Dumbarton (league) games is more appropriate because we showed then what we are all about.
"We won both of those games well and could have scored more goals.
"So it's about trying to build on those performances rather than make up for losing in the cup with a changed team.
"Going into the Falkirk game, our mindset comes from the two games we won rather than last weekend.
"Hopefully, we can kick on even further, get three points on the board and go to the top of the league in our own right.
"Indeed, going out of the cup might not be a bad thing.
"Last season the team had to play extra games because of getting to the final and winning it.
"That is a big test for any squad, not just one like ours which isn't the biggest.
"The league is the priority and getting back to the Premiership at the end of the season is what everyone is focused on.
"Obviously it was a defeat to start with for the new manager but that will be forgotten if we win against Falkirk.
"We are totally focused on the league now and we want to get to the top and stay there."
Scobbie revealed that Laszlo has used the experienced players like himself as a sounding board as he feels his way into the United job.
It is obvious that he is not going to change just for the sake of it.
"He sat down with a few of the senior players last week and talked over the changes he wants to make," said Scobbie.
"It was very clear that he's not in a massive hurry to change things radically.
"He is more interested in tweaking things here and there.
"Given the fact we were sitting near the top of the league when he came in, there is no need for massive change.
"If he's going to change things it will be step by step.
"If there are small things needing tweaked he will speak to us and change it.
"He is very open to the boys and has made sure we know that if we have any problems then his door will always be open.
"The manager is also hands-on in training and has been right in the middle of things.
"Even when we have been playing short games, he's been right there on the pitch refereeing them and passing on bits of information when he sees things.
"He's made it clear he will be involved in the day-to-day training and he will make it fun but it's serious as well.
"Everyone has enjoyed it. The tempo has been there and I'm sure the manager has enjoyed seeing us buying into what he's telling us."
Scobbie, who started his career at Falkirk, believes their manager Paul Hartley will have his players fired up for this game.
"Paul will be disappointed with some of the performances and results since he took charge but they are a good team," said Scobbie.
"Falkirk have been right up there every season and although they had a blip this time, they still have a lot of very good players.
"They are a hard-working team and like every team who comes to Tannadice they will be looking to take a scalp.
"So we have to make sure we match their work ethic and if we do that then hopefully we can get a victory."